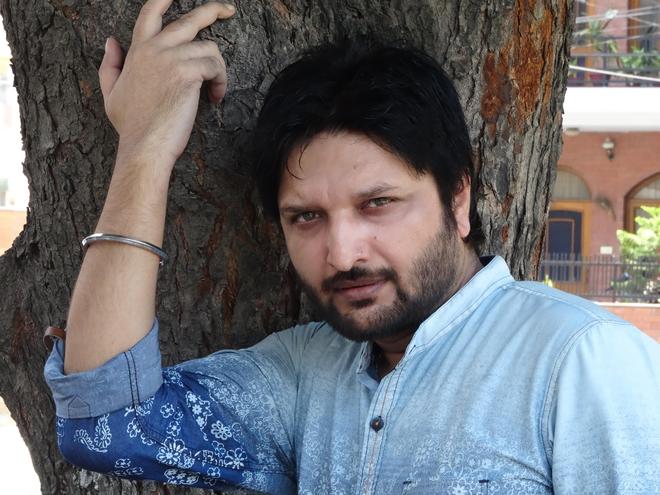 Amarjot Kaur
Even as Punjabi films swirled out of a massive creative recession with much vigour, they have carefully treaded on the new-found shores of popularity, sticking largely to the tried and tested 'Jatt' and 'comedy' formula. However, now, it seems that the industry is willing to experiment with different subjects, exploring the new dimensions and perspectives of myriad subjects. One such film was Punjab 1984, which was released last year and has received the National Award now.
In talks with Punjabi film actor Harsharan Singh, who played the role of Diljit Dosanjh's malicious cousin brother and will now be seen in Amardeep Singh Gill's Khoon as a lead hero, we try and comprehend changes that Punjabi entertainment industry has undergone over the years and how.
A pass-out from the Department of Indian Theatre, Panjab University, Harsharan has been in the industry for over 15 years now and has experimented with not just the cinema but television too.
"I have been in the industry for long enough to see it change and grow and the most interesting aspect of Punjabi cinema, in its current phase, is that it is more open to experimentation with newer and different subjects," begins Harsharan. Prompted to take up theatre and acting after his friends watched him perform in a play, Harsharan's passion gave him an opportunity to work with some of the well-known Punjabi stars, including Gurdas Maan in Chak Jawana. "I started off as an assistant director and at that time I was learning the quintessential concepts of making films, but as an actor, one looks for a role that gives more room for improvisation and which is challenging too," he says.
Mostly seen playing negative roles, Harsharan shares that he likes those roles, which help him deviate from his actual disposition and hone his acting skills. "Punjabi films mostly revolve around the life of the protagonist and though I would want to be the main lead, I would also leave a mark on the audience by acting with the star and still doing justice to my part of the play," he says.
"Perhaps that is the reason why I took to doing Punjab 1984 and I am really happy that it won a Nation Award," he adds.
Riding on the glory of the film, Khoon, where he plays the main lead, Harsharan shares that the film received critical acclaim at the Toronto Punjabi Film Festival and that he will soon be seen in a film that features Gippy Grewal. "The name of the film has not been finalised yet, but it is a big budget film," he says.
However, fame and money do not really interest him much; instead it is the hunger for good roles and subjects that keep him going. "Money and fame will perish someday, but good work will remain forever. So, I am more interested in meaningful films and I have written a few movie scripts, which I will translate into a film once I become a producer," shares Harsharan. He adds that he has already started working on an English-Hindi film, Aapa Dhhapi, which will be written, directed and produced by him.
Top News
No vendetta politics, says AAP
The celebrated agriculture icon was being treated for age-re...
According to the dossier, Brar arrived in Canada on August 1...
Nijjar, chief of the Khalistan Tiger Force, was shot dead by...