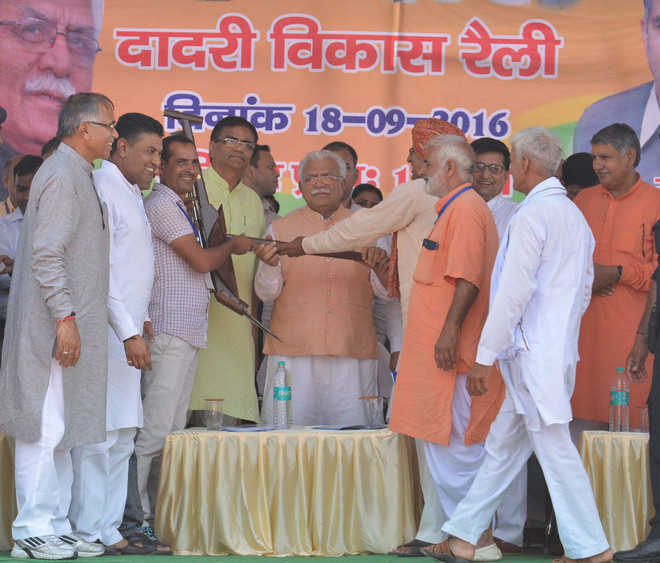 Sat Singh
Tribune News Service
Charkhi Dadri, September 18
Chief Minister Manohar Lal Khattar today announced Charkhi Dadri as 22nd district of Haryana. He fulfilled the two-decade-old demand of residents at the "vikas rally" at the new grain market here.
At present, Charkhi Dadri is part of Bhiwani, the state's largest district carved out on December 22, 1972.
"The BJP had made Charkhi Dadri its organisational district in 1992. I was in charge of Bhiwani and Dadri then," Khattar said. "Charkhi Dadri was treated as a district in 1992 when I looked after the affairs of the Rashtriya Swayamsevak Sangh (RSS)."
On when the announcement would materialise, he said the process would be set in motion soon. "Once Charkhi Dadri becomes a district, development will gather pace," Khattar said.
"It is a matter of pride for me to declare Charkhi Dadri as the 22nd district of Haryana in keeping with the demands and aspirations of the people. It is difficult to understand why previous governments did not make Dadri a district? They created Panchkula, Yamunanagar and Palwal districts, so why not Dadri?" he said.
Agriculture Minister Om Prakash Dhankhar, who was the chairman of a Cabinet sub-committee on re-organisation of districts, told The Tribune Charkhi Dadri cleared all parameters to be a district. "The new district will have two Assembly constituencies — Dadri and Badhra — under its jurisdiction."
A team headed by the Financial Commissioner, Revenue, would soon visit Dadri to demarcate the area of the district and approach panchayats to be part of it, Dhankar said.
The CM laid the foundation stones of welfare projects worth Rs150 crore. He announced Rs5 crore for Nagar Palika, Dadri; Rs10 crore for the Charkhi Dadri Assembly constituency; and Rs10 crore for the Badhra constituency.
Finance Minister Capt Abhimanyu was also present at the rally.