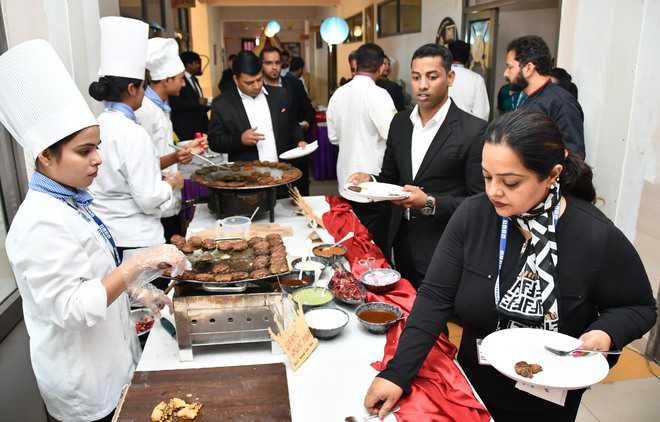 Pervin Malhotra
email your queries to [email protected]
Q. Although I've done quite well in my boards this year, I do not wish to pursue a hardcore academic programme. I'am very keen to develop my culinary skills instead. I missed the application deadlines for registering for many of the hotel management entrance tests. Are there any good options still open? My parents say that they will not let me compromise on the quality of institutes if I wish to go into this line (they are not too happy about it, but I have managed to convince them). — Manek Shroff
A. The Indian Culinary Institute (an Autonomous institute under Ministry of Tourism) has just introduced a BBA in Culinary Art (3-Year) programme at their Noida & Tirupati centres to arm students with the requisite skills, knowledge and attitude to work in the Hospitality sector as a Chef/ Kitchen management and Culinary Specialist.
The programme also involves in-depth laboratory/ kitchen work in the operational areas of Food Production (various Indian and International cuisine), Food Handling, Hygiene and food safety standards besides managerial inputs for kitchen management and food costing. Incidentally, in the hotel/hospitality industry, the highest paid employee is the Chef. There are 60 seats each in the Noida and Tirupati centres and selection is based on an entrance exam. The exam will be held on July 1, 2018. (The sample paper is available on their website).
The fee is roughly Rs 1.5 lakh p.a. (plus hostel charges).
Don't miss the application deadline of June 15, 2018
No need for FMG test from 2019
Q.Our son is pursuing his medical studies in China. He will be completing his course next year but dreads giving the FMG test because he has heard that barely 12-13 per cent students manage to clear it. How should he prepare? — L M Baxi
A. Foreign graduates who are looking at practicing ing medicine in India won't need to give the Foreign Medical Graduates (FMG) Test from next year (2019). To ensure that Indian as well as foreign medical graduates are tested on the same yardstick, the Health Ministry is thinking of merging the FMG (Foreign Medical Graduates) Test with the proposed NEXT (National Exit Test) for assessing the quality of MBBS passouts. Incidentally, the ministry has also introduced major changes in the eligibility criterion for Indian students who go abroad for pursuing medical studies and wish to practice in India upon their return. Now these students no longer need to procure an eligibility certificate from the MCI.
MBA for all graduates
Q.I am preparing to take the CAT this year. I am a social science student (MA Economics). What are the prospects for non-engineers like me getting into top B-schools in India? I believe there's special quota for engineering students. — Deepak Dhanda
A. To set your mind at rest, let me assure you that no such rigid quota prevails – at least currently. In fact, of late, we've been witnessing a rise in the number of non-engineering students qualifying for a seat in our premier B-schools. At IIM Ahmedabad, which is on the top of the pecking order, three out of every ten students in the class of 2017-19 happen to be non-engineers.
Paving the way for better academic diversity and richer peer-learning, at even other IIMs – Kozhikode, Lucknow and Indore, bright non-engineers from varied backgrounds including the social sciences like you, constitute a hefty 20% of the batch strength. This is a major turn-around from the highly skewed ratio of 90% engineering students just two years ago.
This refreshing change is partly driven by industry demand for a more diverse and creative cadre of managers in leadership positions who bring an innovative and varied perspective -- thanks to their different backgrounds to balance and complement analytical thinking.
So just focus on your preparation in dead earnest. If you manage to score on par with your engineering counterparts in the Quant & DI section, you stand an equal chance!
Top News
Earlier, Amritpal was caught in CCTV footage at a toll plaza...
Police have arrested 154 people so far but Amritpal is still...
Stringent National Security Act has been invoked against Amr...
In his first reaction to the police action, the CM releases ...
Mobile internet services in the remaining areas of the state...