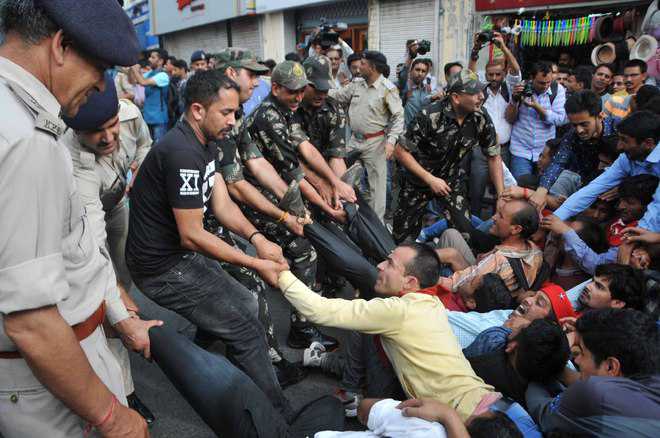 Kuldeep chauhan
Tribune News Service
Shimla, July 8
The 4-month-long strike of workers of the 450-MW Shongtong power project in Kinnaur and CITU-supported 7-day-long hunger strike in the city continued today amid mass arrests of the protesting CITU activists.
All efforts to resolve wage dispute by the Deputy Commissioner, Kinnaur, today failed as the workers' union insisted on their demand to revoke dismissal of all 108 workers, while the mangers of the Patel Engineering sought management's nod for the same.
"We have called the representatives of the workers' union and managers of the company and the HPCL, which is the executing the project, to resolve the dispute at Reckong Peo as directed by the High Court, but the workers demanded that the company should take back all 108 suspended workers," Naresh Lath, DC, Kinnuar, said.
Though the minutes of the negotiations are yet to be out, the DC said the company's general manager and deputy manager agreed to accept the 15-point charter of demands of the workers' union that included wage slips, PF contribution, food, shelter and bonus.
"The workers' union demanded that all 108 workers should be taken back by the company. But the company was not ready to take back 37 workers against whom it had lodged criminal cases and agreed to take back 71 others," the DC said.
After the negotiation was over, the workers' union declared that the strike would continue till the company does not take back all workers, said Shakti Singh, union leader, who led the workers' union at the talks.
On the other hand, the police took Rakesh Singha, senior vice-president, CITU, and a worker from the rain shelter of Chhota Shimla, where they were sitting on a hunger strike since July 2, to the IGMC for check-up on the grounds that their condition was deteriorating.
Defying prohibitory order, CITU activists led by Dr Onkar Shad, Kuldip Tanwar, Vijender Mehra and others gathered at The Mall in a bid to lodge their protest against the government action. They were later arrested by the police and set free on the outskirts of the city.
Five other CITU activists joined the hunger strike at the SBI rain shelter near the CBI office soon after the police vacated the Chhota Shimla rain shelter by taking Singha to the IGMC, said Mehra.
"The protest will continue till workers' issue is not settled," he added.