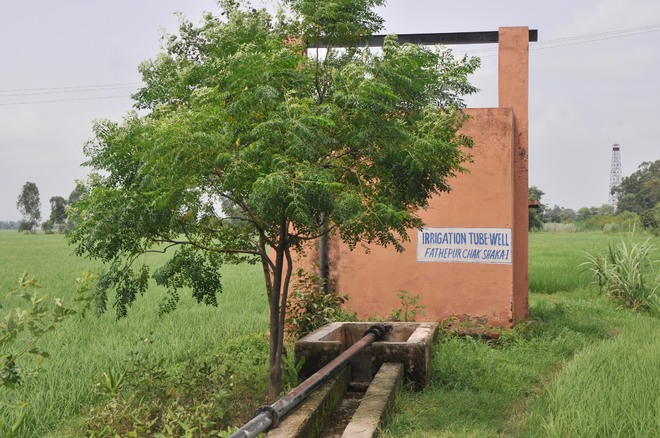 Sumit Hakhoo
Tribune News Service
Jammu, August 23
Greater reliance on heavy tube wells to meet the drinking water requirement of the city and unscientific exploitation is slowly depleting and polluting groundwater here.
It could also jeopardise future water supply in the city as the government has failed to develop any alternative source of potable water.
J&K is already facing flak for reckless exploitation of underground water from environmentalists, who have been questioning the massive project launched since 2005 to dig tubewells to meet the rising water demand of the people.
A senior engineer in the Public Health Engineering (PHE) Department said the city had abundant quality ground water resource but massive drilling projects created a pathway for its contamination.
"Tube wells are poorly designed and constructed, and are mostly located near drains, canals and ponds and as such they are vulnerable to contamination," the official claimed.
At present 27 million gallon daily (MGD) of water is pumped out daily by 224 heavy lift pumps to meet the requirement of the expanding city.
Potable water requirement of the city is 47 MGD while the supply is close to 45 MGD. The winter capital faces shortage of 2 MGD.
According to a study conducted by the PHE Department, out of the 22 major towns in the region,
14 are facing acute water crisis while five others are on verge of facing reduced supply of water.
"The government is not thinking of future impact. Punjab is an example of what unlimited exploitation of water will lead to. There is a reckless exploitation of ground water, which is not a good option for long term. It will deplete the resource and affect every sector," said Bushan Parimoo, who runs a non-governmental organisation — Environmental Awareness Forum.
Apart from the Tawi, ground water is the only avenue available for the government to meet the drinking water requirements of the temple city.
Chief Engineer, PHE, RK Gandotra, however, said tube wells were dug after a proper survey.
"We conduct a detailed study before the pumping station is given approval and if there are any loopholes they are being corrected. We too are concerned about excess use of groundwater and alternate plan is being formulated to divert the Chenab water," Gandotra said.
Jammu and Kashmir had launched a massive project to tap water resources in 2005 and in the last decade hundreds of pumping stations have been dug up. However, repeated electro-mechanical faults were leading to breakdown of machinery, which affected drinking water supply in several localities.