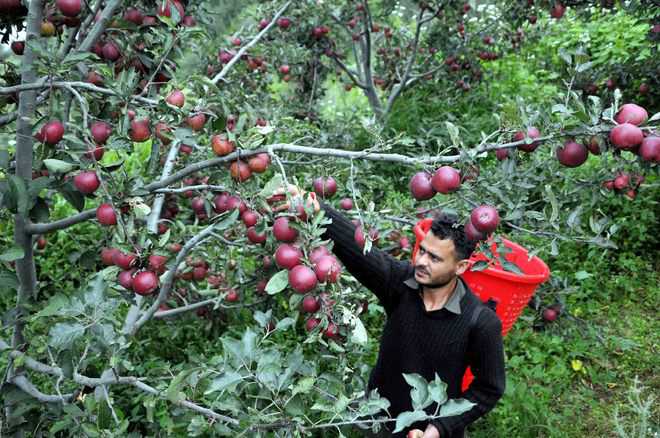 Bhanu P Lohumi
Tribune News Service
Shimla, August 7
Climate change is impacting apple cultivation, the mainstay of orchardists in Shimla, Kinnaur, Kullu, Mandi, Chamba, Sirmaur and Lahaul-Spiti, casting a shadow on production.
The apple marketing season is at its peak, but the production is likely to dip this year and experts attribute it to climate change.
"The production is likely to be about 50 per cent of the 7.55 lakh tonnes (3.80 crore) boxes produced last year as the crop has been adversely affected by scanty snowfall and poor rain," said Horticulture Minister Vidya Stokes.
However, the growers are getting a good price for early variety apples and a standard box of 20 kg is fetching between Rs 1,200 and Rs 2,200 in major markets. "The price is expected to stay at a higher level as the production is quite less," said an agent procuring apple directly from the growers. In the past six years, the area under apple cultivation has increased from 1.01 lakh hectare to 1.10 lakh hectare.
The apple production touched an all-time high in 2010-11 to 8.93 lakh metric tonnes, dropped sharply to 2.75 lakh metric tonnes in 2011-12, again increased to 7.38 lakh metric tonnes in 2013-14 and 5.55 lakh metric tonnes in 2015-16.
The production was 4.12 lakh metric tonnes in 2012-13 and 6.25 lakh metric tonnes in 2014-15. Experts feel that the production may not breach the 2-crore boxes mark this year as the crop has been hit badly in some areas.
According to the state's economic survey, apple constitutes about 49 per cent of the area under fruit crops and about 85 per cent of all fruit production. It is estimated that 42 per cent orchards in the state are over 50-year-old and need rejuvenation to increase the productivity and strengthen the Rs 3,600 crore apple economy.
As many as 14,49,200 apple boxes (28984.5 metric tonnes) had been exported to various markets till August 5, said horticulture director Dr D P Bhangalia, adding that 68.635 metric tonnes had been procured by the HPMC and HIMFED under the market intervention scheme.
Top News
Amid boycott by 21 opposition parties, PM Modi to unveil bui...
Carpets from Mirzapur, bamboo flooring from Tripura and ston...
Modi meets Adheenams at his residence, takes their blessings
PM says NITI Aayog will study the states' concerns, challeng...
NATO Plus, currently NATO Plus 5, is a security arrangement ...