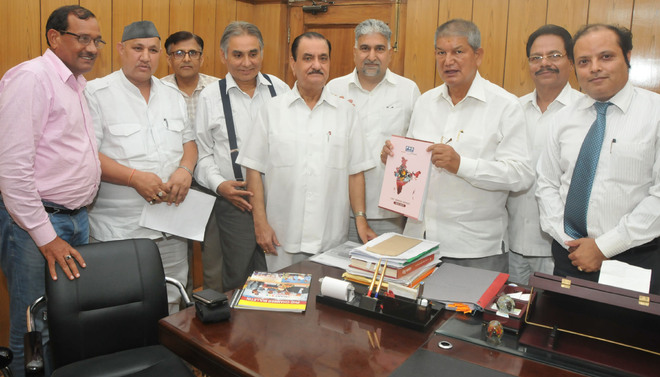 Tribune News Service
Dehradun, July 24
Chief Minister Harish Rawat today sought help from the PHD Chamber of Commerce and Industry Uttarakhand for investment in small and micro hydel projects in the state. He also asked for support in developing technical capability and skill development of the youth.
The Chief Minister at a meeting with a delegation of the PHD Chamber here said the state has immense potential in the field of eco-tourism and to promote tourism along with eco-tourism, the state government was going to give the industry status to the tourism sector. A film policy was also being framed.
He said several schemes were being implemented to check migration from hill regions. "The objective of the Mera Gaon Mera Dhan scheme is to strengthen the economy of the rural sector and attract people towards villages," he added.
The Chief Minister said thousands of crores of rupees had been spent to ensure development of rural areas by building roads, and electricity, water and other basic facilities. These facilities would be beneficial only if people stay in their hill villages and use them. He said under the Mera Gaon Mera Dhan Scheme, extra 6 percent would be given to those who return to their villages and repair their homes in addition to 15 per cent of interest on investment. The government would take on rent for 30 years the building constructed under the scheme and thereafter the owner could increase the rent or sell the building to the government.
He sought support for 2 MW to 5 MW hydel projects under the policy formulated by the state government. He said efforts were being made to connect people in the hill regions to farming and a plan had been formulated to promote cluster farming along with herbiculture.
Members of the PHD Chamber described the Mera Gaon Mera Dhan scheme as practical. They said it was appropriate for investment and expressed desire to support it. The industry representatives requested the Chief Minister to participate as chief guest in the environment seminar to be held in Kashipur on August 27. They emphasised on organising a meeting of the council set up for eco-tourism at the earliest, preparing a policy for food parks and establishing raw material centres in various areas.
The Chief Minister asked the industry delegation to establish apparel training and designer centres in Dehradun, Srinagar and Ramnagar to provide better employment opportunities in the textile Industry and food parks under the Skill Development Mission. Industry adviser Ranjeet Rawat, president of the PHD Chamber of Commerce and Industry Uttarakhand SP Kochar, vice-president Rajeev Ghai, Virendra Kalra, Sunil Gulati and Regional Director Amit Tanjea attended the meeting.