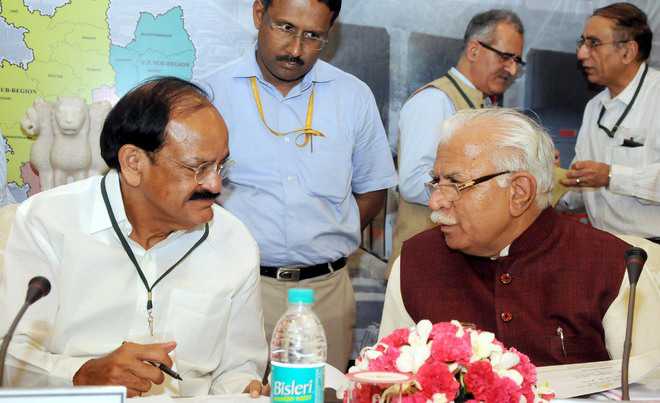 Tribune News Service
NEW DELHI, JUNE 15
Chief Minister ML Khattar today advocated the release of Haryana's legitimate share in Yamuna waters at Okha (Delhi) at the NCR Planning Board meeting.
He asked Delhi to cough up Rs 150 crore to Haryana on account of extra raw water supplied to it.
"Delhi's use of water from Haryana's share has resulted in reduction of the state's legitimate water share from Yamuna", Khattar said.
"Large dry and arid areas of Faridabad, Palwal and Mewat districts in south Haryana have been affected due Delhi's negative stand" , he added.
Haryana is a water-deficit state with respect to both surface and groundwater resources. Yamuna is the major source of surface water for more than half of the state, including Faridabad, Palwal and Mewat districts in south Haryana, he added.
Khattar said Haryana had been meeting the drinking water needs of Delhi from its own share against all odds, and also carried water share of Delhi from the Ravi, Beas and Yamuna through a canal network whose operation and maintenance costs were huge. He urged the board to intervene and get the pending payments to Haryana released by Delhi. It is neither paying charges for extra raw water nor the operation and maintenance cost . At present, Rs 94 crore is due from Delhi on account of extra raw water and about Rs 56 crore for operation and maintenance charges.
The state also demanded liberal financial assistance for developing Karnal and Jind, the new entrants in the NCR, fast-tracking of projects conceived to improve connectivity between Delhi and NCR towns of the state and a soft loan from the board for completion of Rs 44,000-crore mass rapid transit system (MRTS) from Gurgaon to Bawal.
Top News
Says strength of democratic institutions to figure in discus...
BKU protests as sunflower not procured on MSP
Kuki insurgents target soldiers' camp in school
NCB unearths pan-India trafficking | 6 held, all in their 20...