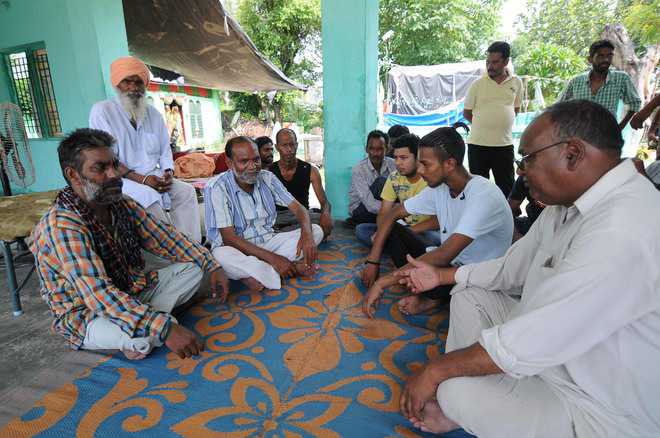 Dinesh Manhotra
Tribune News Service
Jammu, August 12
Amid a nationwide debate on atrocities on Dalits, a group of "helpless" Valmikis sitting in the community hall of Valmiki Colony in Jammu discuss ways to bring their unending plight before the nation.
The meeting has actually been convened to finalise the programme for Independence Day, but some youths raise the question: "Are Valmikis living in J&K independent in the real sense?"
Those who have raised this question have their reasons. Valmikis living in Jammu for the last nearly 60 years are facing the worst form of slavery and are being deprived of all constitutional and human rights.
"An intense debate on the rights of Dalits is going on in the country, but no political party has time to look at our problems. The country is celebrating its Independence Day, but we are entering the 60th year of our slavery in J&K," said Garu Bhatti, a leader of the Valmiki Samaj, Jammu.
"Unless constitutional and human rights are restored to our helpless community, independence has no meaning for us," Bhatti said. He listed how members of the Valmiki community were facing discrimination.
"Members of the Valmiki Samaj have been living in Jammu since 1957, but are deprived of all constitutional rights due to special status of the state," he said.
He regretted that the nation was debating the rights of Dalits in the country, but the third generation of Valmikis were living in virtual slavery in Jammu and Kashmir because they had no other option but to work as sweepers in the government sector.
Valmikis are victims of the unfulfilled promises and betrayals by successive state governments of J&K because the commitments made to them were never fulfilled.
In 1957, over 250 Valmiki families were called from Punjab for employment as "safai karamcharis" with a promise to provide all constitutional rights like other citizens of J&K.
As J&K enjoys special status under Article 370, some rules have to be relaxed to grant permanent resident certificates to these Valmikis, but no step has been taken in this regard so far. "Except sweepers, we are debarred from applying for any other government job in the state due to lack of the certificate," a community member said.