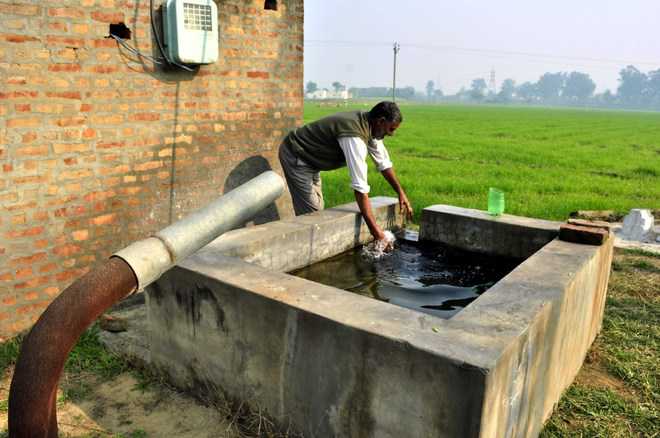 Aman Sood
Tribune News Service
Patiala, January 2
The Punjab State Power Corporation Limited (PSPCL) claims to have ample power and has even shut 10 units of state-owned thermal plants but farmers in many parts of the state claim that they are not getting enough power for irrigation. They say they have to rely on generator sets. They say wheat and vegetable crops need water supply and the PSPCL is supplying water only during night hours and that too is erratic and without any prior information.
The PSPCL has shut 10 out of 14 units in its three thermal plants — Guru Gobind Singh thermal plant in Ropar, Lehra Mohabbat plant and Bathinda thermal plant. "This has been done due to low demand of power as even fields do not need water supply and the agriculture sector load is also minimal, except for that of the vegetable crop," a senior officer said, adding that the demand is now hovering around 1,100 lakh units against 2,200 lakh units in the peak paddy season.
However, farmers differ on the issue and allege that they have been repeatedly visiting the offices of the PSPCL to ensure power for their fields during the day time. "My wheat crop is now getting water courtesy the generator set that helps pump my tube well. We cannot rely on the PSPCL supply as it is released only at night and is irregular," said Nabha farmer Gurbakhshish Singh. "We cannot wake up the whole night and wait for power. Sometimes, we get no power at all and this happens without any prior information," he said, adding the PSPCL should put a supply timetable on its website for the benefit of farmers.
A senior PSPCL official claimed that the PSPCL was giving ample power to the fields throughout the year. Even in the Annual Revenue Requirement for 2016-17, the PSPCL has mentioned that the "power subsidy for agriculture sector (AP consumers) will jump from the existing Rs 6,000 crore in 2015-16 to Rs 6,500 crore" in 2016-17. "During the past paddy season, we have ensured eight-hour uninterrupted supply to the farm sector and there is no power shortage with us now, when the demand is almost half of what it was in the paddy season," he stated.
Consortium of Indian Farmers Associations president Satnam Singh Behru alleged that the power supply situation was irregular during the paddy season also.
Top Stories