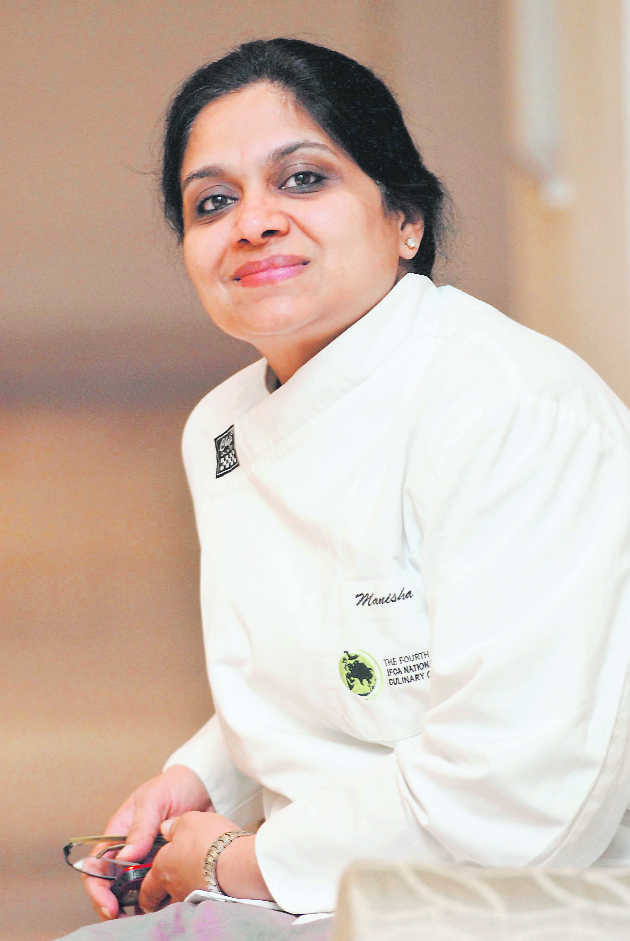 Shashi Sunny
I had a penchant for cooking and a creative bent of mind. Also food, I realised, fetches the fastest results of your hard work," says Manisha Bhasin, while reminiscing why she opted to be a chef. Manisha, who has decades of experience to her credit, is currently a senior executive chef at the ITC Maurya, New Delhi. "I aim to keep the flavours of the ingredients intact even while creating new combinations and experimenting with food. I believe that one has to be passionate about cooking to be a successful chef. There is no other way."
She shares her thoughts and dreams about the food industry.
What got you initially interested in cooking?
It was my grandmother. She was an exceptional cook and would experiment with new ingredients all the time. I found it fascinating to watch her in the kitchen as she whipped up new flavours. I started out by watching and helping her. To begin with, cooking was a hobby, and gradually this hobby transformed into my career.
What is more important to be successful as a chef — training or passion for cooking?
Generous helpings of both are required. It is practice and experimentation that combine to lead you to success. Your innate skills have to be professionally honed. But you must fall in love with cooking to rise as a great chef. Sheer hard work with focus is required to get you where you want to be in the hospitality industry.
What changes have you seen in the food industry during your career?
I have seen the industry grow by leaps and bounds. There was a time when I had to import most of the ingredients. Today that is no longer a challenge. Even the most exotic ingredients from any part of the world can be procured sitting here in New Delhi. Also with internet and social media, new vistas of information have opened up. The number of Indian travellers overseas has also increased and since they are now more aware and expect the similar quality once they are back, the demand from chefs to meet the global standards is growing manifold.
Have our chefs been successful in making a name for themselves internationally?
Surely yes. Indian chefs are known for their skills and hard work. We carry the cuisine knowledge in our DNA and we eat wisely based on seasonal produce. Today, West is following our Ayurvedic way of eating. I have been to some universities overseas where I saw a lot of research being done on Indian herbs and spices.
Can you recall any memorable incidents from your experience as a chef?
Though, I have not really faced any challenges, my initial years were a struggle as it is for anyone else. My colleagues would bet whether I would be able to survive the training period of two years as it was unheard of having a woman chef in the kitchen. But here I am and today we have many celebrity women chefs in our country who we can be proud of.
What is your comfort food?
It keeps changing and it usually depends on the project one is handling at that point of time. I have worked with so many brands within ITC hotels. While launching pan Asian restaurant, Japanese was my favourite. Another time I was deeply in love with the Delhi cuisine. I have done a lot of research on Dehlvi cuisine, which today is a signature cuisine of ITC hotels.
Who are the important people you would like to cook for?
Fortunately being at the helm of F&B for almost eight years at ITC Maurya, I have cooked for many celebrities and heads of state, including President Barack Obama, Bill Clinton, Vladimir Putin and many Bollywood and Hollywood personalities.
Are there any changes you would want to introduce to the Indian restaurant scene?
I would like to create greater awareness about the variety of cuisine my country has to offer. There are so many forgotten ingredients, which we must start using so as to preserve of culinary heritage.
I would also like to make people more aware of the benefits of healthy eating and consuming freshly prepared food, made with seasonal ingredients.
Currently I head the Women's Forum of IFCA (Indian federation of Chefs Association), which mentors the next generation and makes them future ready whether it is the trends, best practices or technological development in the area of cooking.
Top News
Rescue workers break through the 60-metre stretch of rubble ...
Education dept issues the dismissal orders following approva...
To hold a meeting in Hisar to decide their next course of ac...
Set to meet Governor Banwarilal Purohit
Sikhs of America says gurdwaras are places of worship and sh...