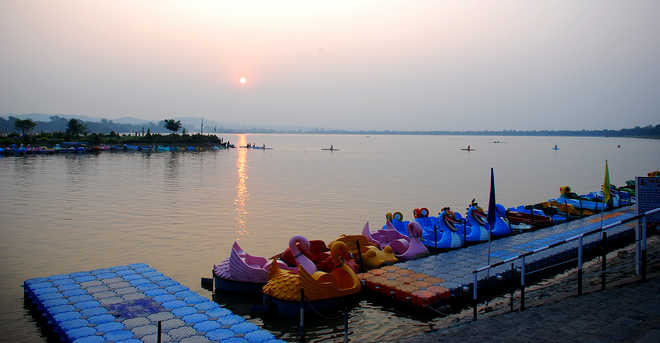 AS Chandigarh celebrates the legacy of Le Corbusier 50 years after his death, we look at the city that was envisioned as home to the displaced government of the state of Punjab, which had lost its capital, Lahore, in 1947.
Chandigarh was created in a sparsely populated area that housed a number of villages. Today the modern city seeks UNESCO heritage city status, and its residents enjoy facilities, wide open spaces and roads, the educational institutions and modern architectural heritage.
The first state capital to be built after Partition, Chandigarh had its advocate in Jawaharlal Nehru, with Partap Singh Kairon as its main executor and Le Corbusier as the architect.
Even as Corbusier and his team gave Chandigarh its concrete shape, it was the residents of the newly formed city who brought it to life. The necessary institutions of governance were created, along with a major educational and health infrastructure, all of which added to the vibrancy of the city.
The original plans, and the ability of the Chandigarh Administration to stick to them with remarkable tenacity in spite of various pressures, have preserved the essence of the city, even as its periphery has seen growth, sometimes haphazard.
The broad roads of Chandigarh seem natural for the first Indian city to be designed with the automobile in mind. Today it has the highest per-capita registration of motor vehicles in the country, yet it is still possible to commute with minimal discomfort. Some of the most memorable icons are the ones which were not originally planned. Like the Rock Garden, a magnificent colourful creative counterpoint to the rigidity of the straight lines etched in concrete; and the geri route, that raucous road that the young choose to express themselves on.
The Tribune reported about Chandigarh from Ambala till it shifted the headquarters to the modern city in 1969. In these pages we dig into our archives to present various vignettes of City Beautiful.
---
Vital Statistics
Total population (2011 census) : 10.55 lakh (2011 census)
Population density/km2 (2011 census): 9258
State Animal: Indian Grey Mongoose
State Bird: Indian Grey Hornbill
State Tree: Mango Tree
State Flower: Dhak
Number of students University: 16,000 — College: 75,000
Number of colleges: Government: 5 — Private: 6
Number of schools: Government: 109 — Private 82
Number of hospitals: Secondary care hospitals: 3 — Dispensaries: 18 — Private clinics: 15
Number of registered vehicles: 11 lakh
Petrol consumption: 1,300 kilo litres per month
Number of buses: 450 ( CTU)
Number of autos, rickshaws, cycles: 4,000 registered
Road length in km (big + small): approx 1,300 km
Green area: 69 green belts, 26 gardens and 1,700 neighbourhood parks
Top News
The Khalistan sympathiser said if the state government had t...
'Let us not be selective,' Solicitor General said while insi...
Counting of votes will take place on May 13
Deplores attempts by Rahul Gandhi to draw parallels between ...
Petitioner sought more time from the court for producing evi...