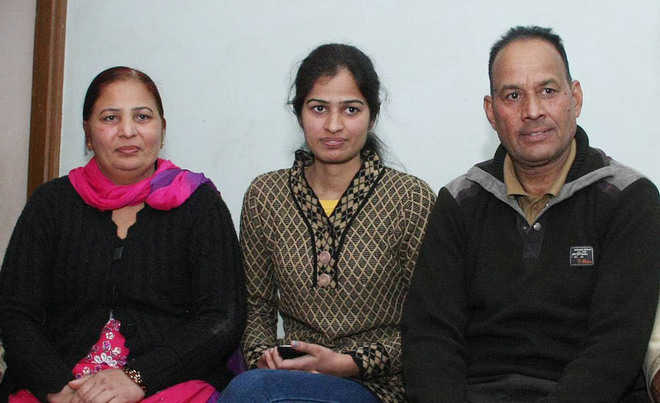 Deepkamal Kaur
Tribune News Service
Jalandhar, December 29
From his small shop outside the Nakodar courts complex, where he still prepares tea for advocates and litigants, Surendra Kumar would daily notice the respect and command that the judges enjoyed. He nourished a dream that his children too would reach that position some day.
The dream finally got fulfilled last week. Defying all odds, his bright, hardworking LLM-qualified daughter Shruti came out with flying colours, bagging the top rank in the SC category in the PCS (Judicial) examination. A student of State Public School, Nakodar, she stood second in the five-year LLB course from Guru Nanak Dev University Regional Campus at Ladhewali and remained the LLM topper at Punjab School of Law, Punjabi University, Patiala.
It was not just her matriculate parents but also her deceased grandfather, who served as a bailiff in the court, who nurtured the dream. "We did not seek any financial aid from anyone other than my brother and father, but just restrained our expenses to make sure that our children are able to do well and do not have to face the daily grind that we had to bear. I manage to make a respectable monthly income to run the family but I never spent even a penny on any kind of luxury. I have not provided them with a cellphone or any distractions so that they remain focussed on their goals," Surendra Kumar, popularly known as Kala in this town, shares. His younger son is preparing for the MBBS entrance test.
The father claims that he does not even have time to bask in the excitement and spend a few minutes off his work. "If I get into all that, who will take care of my work? There are customers who keep flocking all day. There have been so many visitors also at our place in the past one week coming with congratulatory messages. I have not been able to attend to them too. I am also not personally in favour of my daughter getting any limelight in the media," he said.
Shruti's grandmother Karamjit Kaur narrated, "It was my husband's dream too to see his sons become judges. But circumstances were not in our favour then. My elder son Tirath Ram did his graduation in 1982 and even purchased books to crack the entrance examination. But he could not pursue his career the way he wanted as Surendra got some health issues then. But he appeared for bank exams and sailed through."
A jubilant Shruti does not want to talk of the oddities that she faced, "More than resources, I think it is the motivation that my parents, grandparents and teachers gave me which helped me in shaping my career."
Top Stories