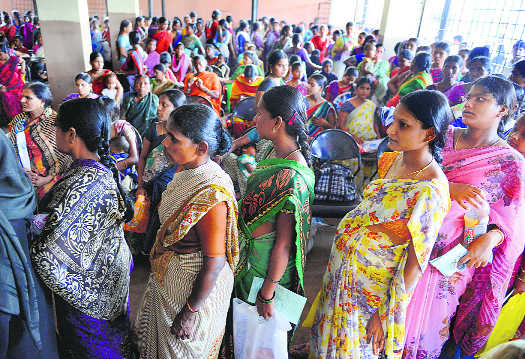 Free medical insurance is usually assumed as the magic-wand for equitable access to healthcare to the poor. After the national-level health insurance scheme, Rashtriya Swasthya Bima Yojana (RSBY) with financial coverage of Rs 30,000 to below the poverty line families in 2008, the government recently launched the National Health Protection Mission (NHPM) under the ambit of 'Ayushman Bharat' that extends financial protection up to Rs 5 lakh to 10.74 crore poorest families for accessing secondary and tertiary care hospitalisation. Whether the scheme leads to an equal opportunity to receive insurance benefits in a resource-poor setting is, however, a million dollar question.
The medical care industry in India is not only fragmented but also highly concentrated with high dominance of private providers. Rural area is flooded with informal healthcare providers with missing basic formal services. The four-fifth of formal private provider is in the urban area. The corporate hospitals are largely concentrated in five-million plus cities with monopoly of few, serving only a fraction of population. The hospitals that have ever come under insurer and the third-party-administration (TPA) networks (around 33,000) are also concentrated in urban metropolitan area with wide variation across districts and states. The empanelment hospital under the existing national (RSBY) and state sponsored insurance schemes are also centered in few districts. This lead to unequal opportunity to access hospital care in vast areas.
RSBY experience from 282 districts shows the beneficiaries could access negligible medical care (with only 1.3 per cent hospitalisation rate) in 2017 in districts where provider network was less extensive as compared to as high as 11.8 per cent hospitalisation in districts where provider network was highly extensive.
Of the total 4,87,92,883 patients, over two-fifth of them travelled outside from the district or state to access medical care in last 365 days, as reported in the 72nd round National Sample Survey, 2017, due to non-availability of facilities in the vicinity. Due to which they had to bear more than double medical care costs. Mumbai, Delhi and NCR region, Chennai, Bangalore, Jaipur, Kolkata, Surat, Lucknow and some other metro cities have been the centres of attraction for a large number of patients from neighbouring states and districts.
As per Insurance Information Bureau reports, a three-fourth of total numbers of claim and amount of insurance claims paid are reported from few metro cities due to high concentration of medical industry. Six states namely Maharashtra, Delhi, Karnataka, West Bengal, Tamil Nadu and Gujarat account for 70 per cent claim numbers and 73 per cent claims paid, which amounted to total 15.2 lakh claims worth Rs 5,166 crore in the particular year. The share of claim paid remained very marginal in resource poor setting cities and states. According to a recent report, around 2,32,592 beneficiaries were admitted to hospitals under NHPM. The highest numbers of hospitalisation were from five states Gujarat, Tamil Nadu, Maharashtra, Chhattisgarh and West Bengal. Chhattisgarh has one of the high hospitalisation rates under RSBY, therefore, it is the only outlier in NHPM access.
The provider network is highly essential for service access through insurance and reduce burden of medical care cost. The recently launched NHPM is completely silent on restricting concentration and monopoly in hospital market. The government documents rather suggest that insurance would play a stewardship role in directing the private investment towards those areas and services for which currently there are few providers under the strategic purchasing of services agenda. The insurance, however, does little to encourage and redirect the private investments towards critical gap filling in the past.
Promoting strategic purchasing of services from private providers through insurance without proper regulation and incentive that fosters hospitals investment to fill critical services gaps would not work. The concentration and monopoly may even emerge further that would have large implications for access to hospital care in vast areas where there are no providers especially for ensuring the equitable access to healthcare in the country.
The announcement of high coverage under NHPM, no doubt, may help in promoting the insurance-based-financing-mechanism at pan India level, but it would cost the government manifolds.
According to a report, the total 107.4 million families are expected to cover under the scheme, but, only 6,03,050 e-cards have been generated since its rollout and 2,32,592 beneficiaries were hospitalised that cost around 344.8 crore to the government in first 54 days.
If this high hospitalisation rate remains constant for full year then it alone would cost more than what government has allocated (Rs 2,000 crore) for the scheme. Once, if all e-card generated, and if hospitalisation rate remains same, it would cost manifold to government than the allocated funds. The preliminary results show that the scheme is going to pose serious financial burden on the government.
The moral hazard problem, irrational and overuse of medical interventions is highly prevalent under insurance-driven system across the globe, which, rather than reducing the cost, had inflationary impact. Andhra Pradesh is classic example where such impacts are observed. The strict regulations on premium, pricing, quality, unethical practices, moral issues, etc. are urgently warranted to make insurance-based system a successful intervention.
— The writer is faculty at Institute for Studies in Industrial Development, New Delhi. The views are personal
Top News
In Mizoram, Zoram People's Movement is locked in close race ...
According to Defence Ministry, 98 per cent of the total proc...
India has constituted a probe team to investigate allegation...
Nikhil Gupta, 52, has been charged with murder-for-hire in c...
GDP growth in the first quarter of current fiscal — April-Ju...