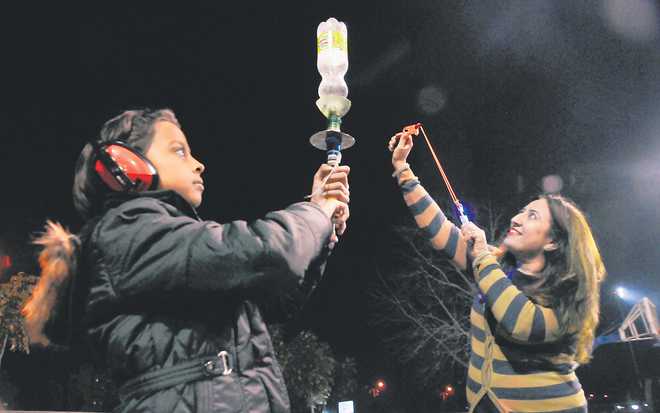 Pavneet Singh Chadha in Mohali
THERE'S no smoke without fire, right? Not always, ask Dr Samrat Ghosh, assistant professor at the department of chemical sciences at the Indian Institute of Science Education and Research (IISER), Mohali. The 'bomb specialist' — the moniker is thanks to his band of researcher-students — has developed a prototype of a smoke-free firecracker. So, add more of zeitgeist to all your celebrations, if you'd like. It promises an alternative to pollution-causing traditional firecrackers.
The prototype 'IISER-M pollution-free firecracker' consists of a plastic bottle, filled with combustible gas, mounted atop a metal launcher. The launcher has a sharp stump which is pushed inside the bottle. The seal is disengaged when ignited, and boom it goes with a fire burst of a micro second, much like a gunshot.
"Nothing attracts a big crowd than a loud bang and a flying object. Bursting firecrackers is in our DNA," chuckles Dr Samrat Ghosh, child-like. There he goes out in the sports ground wearing a white lab coat and a head-set. The windowpanes shake with a clang of the blast.
The specialist in solid state chemistry has done his post-doctoral fellowships in Germany, France and the US. Dr Ghosh joined IISER as a visiting faculty in 2007, his first teaching-cum-research job. "I wanted to convey that chemical reactions could be beautiful and thrilling, and contribute to society," he says. "Eco-friendly projects have the potential to pique interest for chemistry among students." In his stints abroad, his work involved application of solution combustion technique to simplify the combustion process, including in ceramic material (pigments) of bathroom tiles, the magnetic strip of cassette tapes and making prototypes of batteries that could work for days on a single charge.
In September 2016, along with two first year BSc students, Sanat Kumar Ghosh and Jetharam Khorwal, the 'Rocket Team' started working on a prototype of a smoke-free rocket with minimal sonic effect. "It was a ground-based projectile, which could achieve a flight of 50-60 feet upon detonation, without the accompanying fire and with minimal sound," says Ghosh. The team won second prize at 'Advitiya', the techfest in IIT Ropar for their prototype. "In these competitions, drones and gadgets mostly win," he says.
In October 2017, a year later, the Union environment minister Harsh Vardhan asked scientists to develop zero-pollution firecrackers after the Supreme Court banned sale of firecrackers in Delhi-NCR. The Rocket Team, set about modifying the contraption into a prototype that could replace the pollution-causing bomb. "The combustion process of barood is not complete. Hence, when it burns, sulphur, potassium and other metal nitrates, emit toxic fumes," he says. "The biggest challenge was to control the plastic bottle, which would shatter upon explosion. We had to design a robust and rugged splinter shield that could withstand the shock-wave of the burst." In four months from now, the team is ready with a prototype and is negotiating with entrepreneurs to make the product available by Diwali.
Another key aspect of the firecracker is that its combustible substance (chemical recipe) has a shelf life of 10-12 days, following which it undergoes self-decomposition, minimizing the risk of a fire hazard. "This could also be a cheaper alternative for farmers to scare away animals gorging on their crops." A patent for the prototype is yet to be filed. "We are discussing how to protect this concept, either in the form of a patent, trade secret or copyright. The pricing and viability aspects would be worked later." He says China has been working on similar models. "Some products are available in the market. The 'Cold Anar' produces no smoke and is used in wedding functions, but it is expensive."
He said the electronic firecrackers lack the thrill and immersive experience. "They are akin to LED lights which flicker and make crackling sounds. I doubt they would be popular among children," he says.
Another project that is in the pipeline concerns using biodiesel as an alternative to conventional diesel for automobiles.
Dr Ghosh said he had always been fascinated with arms, ammunitions and weapons. "We moved a lot during my adolescent years. My father was in Indian Defence Administrative Services (IDAS) and was posted at Patna, Kolkata, Itarsi (MP), Delhi and even Afghanistan. I accompanied him to the ordnance factory in Itarsi," says Ghosh. That was the beginning of a dream.
Top News
Xiaomi accused of 'unauthorised' remittance of this amount i...
Sane also allegedly told interrogators that he was HIV-posit...
Many local villagers were engaged in illegal mining when the...
A DIG-rank officer to probe six Manipur violence cases refer...
Sports Minister Anurag Thakur had assured protesting wrestle...