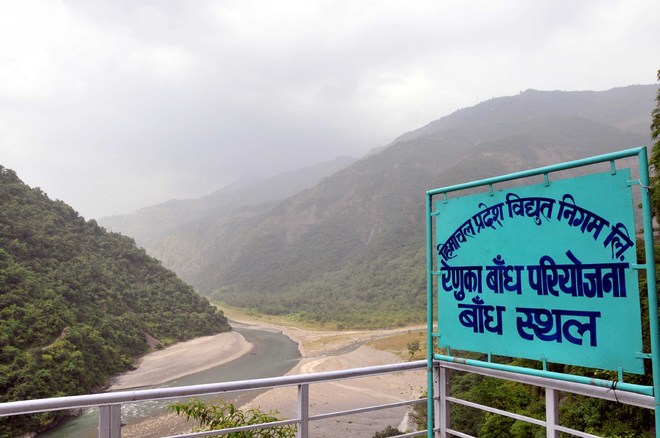 Bhanu P Lohumi
Tribune News Service
Dadahu (Sirmaur), Sept 10
The execution of Renuka Dam project in Sirmaur district to quench the thirst of Delhi, already delayed by over a decade, is now facing another hurdle. Chulli Dadahu panchayat, about two kilometres from Renukaji, has refused to give no-objection certificate to the project, arguing that blasting for tunnels and other works will cause irreparable loss to ecology.
The project envisaged the construction of 2-km diversion tunnel from Renuka Dam to the Jalal river through Dadahu and blasting in the area in the sliding zone would trigger landslides, develop cracks in houses and make the area prone to natural disasters, says Pradhan of Chulli Dadahu village panchayat Mahesh Kumar.
The dumping site, which is 500 metres away from the village, would convert Dadahu into a highly polluted village, affecting tourism and health of the people. Besides, noise pollution, residents would be exposed to health problems, he asserted.
The highly fragile nature of the hills could be gauzed from the fact that recently, landslides occurred when some residents started construction in the village and it was feared that blasting and heavy excavation for construction of the tunnel would destroy the whole village, he added.
"We took a team of villagers to Nathpa in Kinnaur district where dams have been constructed and found that there is no prosperity or increased business activity but on the contrary, the flora and fauna had been destroyed, Mahesh said.
With the construction, hundreds of trucks and labour would come in Dadahu and it would be turned into another Baddi where crime was on the rise. The business would be hit as tourists visiting the Renukaji wildlife sanctuary would prefer not to venture into dust-laden areas and even the tourist coming to see the scenic beauty of Sirmaur and visiting Haripur Dhar, Chaur Dhar would take alternate routes, said local businessman Jayant Arya.
With felling of 4.5 lakh trees and plants, the threat of cloudbursts and soil erosion would aggravate and as per the scientific studies, even the frequency of earthquakes would increase, said resident Subash Sharma, adding that 25 villages would be affected out of which 17 would be submerged.
However, GM Renuka Dam Project B K Kaushal said the NOC was required only for the forest land and as no tribal area or forest land was to be acquired in Dadahu. As far as the tunnel was concerned, studies had been conducted and all necessary precautions had been taken, he claimed.
The revised estimated cost of the project had shot up from Rs 3,572.19 crore to Rs 5,243 crore due to delay in execution but now clearances from all statuary bodies such as forest, environment, pollution, etc had been obtained. "We are waiting for the release of the funds for the execution as it is a national project and 90 per cent cost is to be met by the Centre and remaining 10 per cent by the beneficiary states", he added.