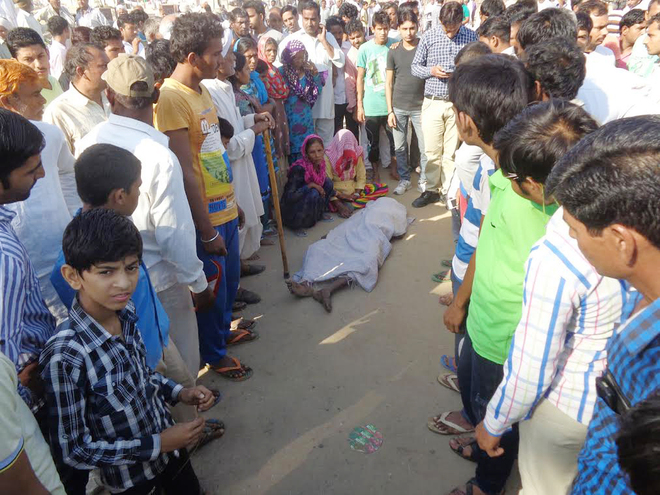 Our Correspondent
Sonepat, October 22
A 14-year-old Dalit boy, Govinda, was found dead with multiple injuries in a vacant room near his house in the Devipura Colony in Gohana today. On the complaint of his family members, a case of murder has been registered against two police personnel.
Sources said Govinda was taken in police custody on Wednesday for investigation after a complaint of theft was lodged against him by Lal Singh, a resident of the Jind road colony at Gohana.
Angered over the incident, his family members and other residents of the colony blocked the Gohana-Baroda road by keeping youth's body at the level crossing of the Rohtak- Gohana-Panipat railway line on the road. As the blockade continued for more than three hours, two passenger trains were cancelled.
Gohana SDM Dharmendra Singh, DSP Vinod Kumar and other residents of the town reached the spot. The protesters demanded a murder case against two police personnel, government job to one member of the family and financial compensation to the kin.
They also demanded postmortem of the body by a board of doctors. The blockade was lifted after the administration assured them that their demands would be considered sympathetically by the government.
On the other hand, police authorities explained that the victim was released late last evening from custody and he might have committed suicide after reaching his house.
The DSP said the victim's body had been sent to the PGIMS, Rohtak, for post-mortem examination.
Top News
Flags concerns over terrorist's threat to Air India, Parliam...
Madhya Pradesh tops the chart followed by Odisha, Uttar Prad...
Battled for life for 39 days, dies after being flown to AIIM...