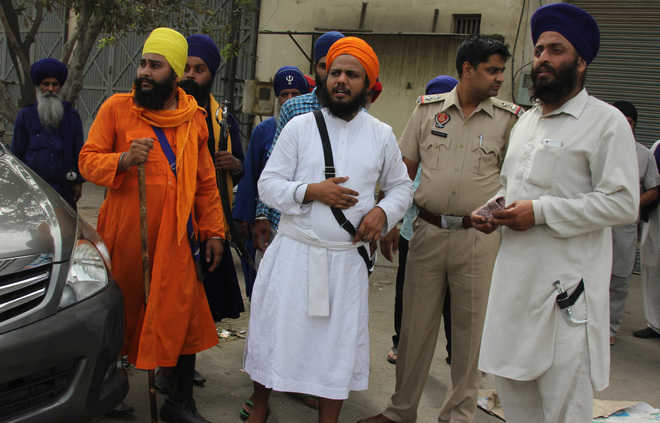 Ludhiana, June 12
A group of Sikhs attacked a preacher of the Damdami Taksal at Gurdwara Bhai Ram Singh in Vishwakarma Colony of Shimlapuri here this afternoon.
The attackers also smashed the windshield and windowpanes of the Taksal car.
The police have booked eight persons and arrested three, including main accused Joga Singh Khalsatani. The incident took place when Gurdial Singh, president of the management committee of the gurdwara, was honouring Taksal preacher Sandip Singh with a siropa. A group of Sikhs opposed the move.
Khalistani, who is active on social networking sites and associated with the Sangharsh Committee, reportedly said, "Killers can't be awarded with a siropa." Activists of both groups entered into a heated argument which led to a clash.
A group of Sikhs, including Harsimranjit Singh, Amandeep Singh, Jassi and Amanjit Singh, allegedly thrashed the preacher. They also tossed his turban.
Sandip managed to escape from the gurdwara with the help of his supporters.
Joga Singh and his aides chased his SUV and damaged the windowpanes. Sandip received minor injuries and was rushed to DMC Hospital. After receiving first aid, he went to Amritsar. Sources said there was a dispute over the election of the gurdwara management committee. The Taksal recently intervened in the matter. Sanjeev Kapoor, SHO, said, "We have registered a case." — TNS
Top News
Shah appeals for surrender of arms, says dialogue only way f...
PM flags off cargo train from Bihar to Nepal
Mahapanchayat in Kurukshetra today to chalk out future cours...
2nd science topic to be removed by NCERT after Darwin's theo...