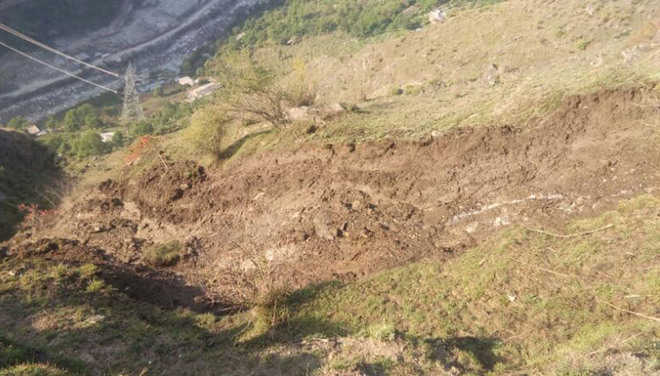 Dipender Manta
Tribune News Service
Kullu, April 18
Danger persists for the residents of Rella Panchayat in Sainj valley of district Kullu in Himachal Pradesh after a massive landslide occurred in the area because of the leakage in the NHPC Parbati Power Project tunnel. Villagers living downside the hill heard the voice of landslide last night and informed the local administration.
Later eight families were shifted to a safe place.
The matter came to notice on April 13, when villagers observed water seepage from hill side and they informed the project authorities. Earlier the project authorities were taking it lightly because the seepage was 2.5 km away from project tunnel. However, the landslide last night near Riena village forced the authorities to stop water supply to the tunnel to avoid any danger for the residents of area.
Khimdasi Pradhan, Gram Panchayat, Rella said the villagers were living in fear because a massive crack was observed in the hillside, which may trigger a huge landslide. This will cause massive damage to the houses constructed downside in the area.
"We informed the project authorities as well as the local administration. The officials later plunged into action and got the houses vacated. We were urging project authority as well as district administration to look in to the matter and take preventive measures to avoid any danger to the residents of area", she remarked.
According to people the area was quite fragile and constant seepage of water may lead to massive landslide, which will damage the habitats of around Rella, Dahra, Khadoa, Jeeva and two other villages. So they requested the project authorities to resolve the problem of leakage before starting power generation.
People alleged that the use of substandard material for the construction of tunnel was the major cause of the seepage.
Chief Engineer of Parbati Project Stage-2 S K Yadav said that the project authorities had stopped water supply in the tunnel and a team of technical experts had been called up to sort out the problem. "We were maintaining a close vigil over the situation and appropriate steps will be taken", he added.
Deputy Commissioner Kullu Yunus Khan said the team of district administration visited on the spot today to review the situation. The project authorities had been asked to take preventive measures to plug the leakage.
Top News
Jaishankar meets UN Secretary-General Antonio Guterres and P...
Canada is home to about 770,000 Sikhs - the highest populati...
Canada has alleged that Indian authorities were behind Nijja...