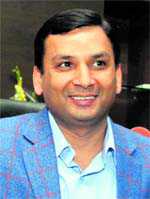 Gurvinder Singh
Tribune News Service
Ludhiana, February 7
Deputy Commissioner Ravi Bhagat would initiate a children's immunisation SMS alert programme soon to give reminders and information to parents with regard to immunisation of newborn children. The Deputy Commissioner said he had initiated this programme during this tenure in Amristar last month.
The Deputy Commissioner said Amritsar became the first district in the state to send prior information to parents, so they didn't miss vaccination of their children.
The programme was named 'i-Sehat – Tikakaran Suneha'. Parents enrolled for the programme by submitting details such as mobile phone number and child's date of birth. Under the alert programme, SMS in Punjabi are sent to the registered mobile phone numbers with information about the due date of vaccination as well the addresses of nearby health centres. The reminders are sent to parents until the child turns five.
Ravi Bhagat said he would like to implement the project in the industrial city as well. "A software was specially developed by government employees," he said. Proper immunisation of children is a must for ensuring their good health. If implemented in all districts, then it can go a long way in filling up the immunisation gap, he added.