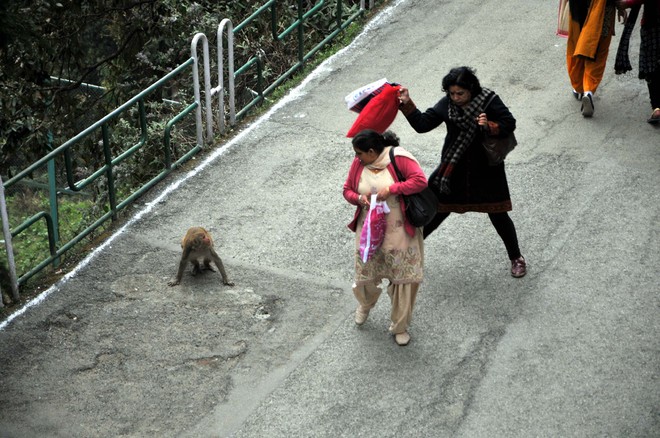 Pratibha Chauhan
Tribune News Service
Shimla, September 12
The Forest Department has urged the Union Ministry of Environment and Forest to declare monkeys as vermin within Shimla municipal limits. There have been several cases of attacks by monkeys and their concentration has increased in the urban areas.
It was yesterday that the Wildlife wing of the Forest Department moved a case for getting monkeys declared as vermin within the municipal limits of the capital initially for six months. The department has cited the increasing number of monkey bites, which is 296 during the last three years, and attacks on human beings in the town as reasons for seeking the nod of the ministry.
The earlier request of the Forest Department to the Centre was turned down as the required information regarding the hot spots having high concentration of monkeys had not been specified. The process of population estimation of the monkeys has been undertaken and once the data is compiled, the case for getting the simians declared vermin in other parts of the state will be undertaken.
"We have moved the case to the Centre for declaring monkeys as vermin within Shimla municipal limits as there were several cases of bites and attacks on human beings," said Tarun Sridhar, Additional Chief Secretary, Forest and Revenue. He said once the data for the entire state was ready, cases for declaring monkeys as vermin in problem areas would be moved.
It is under Section 62 of the Wildlife (Protection) Act, 1972, that the monkeys can be declared as vermin. Various options to check their growing number is to undertake scientific culling, export them for laboratory testing of drugs or sterilise them. It was in July that the population estimation of monkeys was undertaken, the results of which will be known by October.
Despite the Wildlife wing running eight sterilisation centres and sterilising 96,709 monkeys till August 15, there has been no reduction in the number of attacks by monkeys. In fact, it has become difficult for schoolchildren and women to move around alone as they are most vulnerable.
The right sterilisation centres functioning are located at Tutikandi (Shimla), Sastar (Hamirpur), Gopalpur (Kangra), Baul (Una), Sarol (Chamba), Sapalar (Mandi), Paonta Sahib (Sirmaur) and Ispur (Una). Work on making the ninth sterilisation centre at Kania Nullah in the Sainj area of Kullu is still under way.
The loss caused by monkeys to crops and fruits runs into several crores and in several places such as Kullu, Solan, Mandi and Sirmaur, farmers have given up cultivation of maize and vegetables.
Top News
Lived in self-imposed exile in the UAE to avoid criminal cha...
After his failed misadventure in Kargil, Musharraf deposed t...
Military shoots down the surveillance balloon in Atlantic Oc...
The incident took place on Friday when Kambli reached his fl...
CM said only manual excavation of sand will be permitted in ...