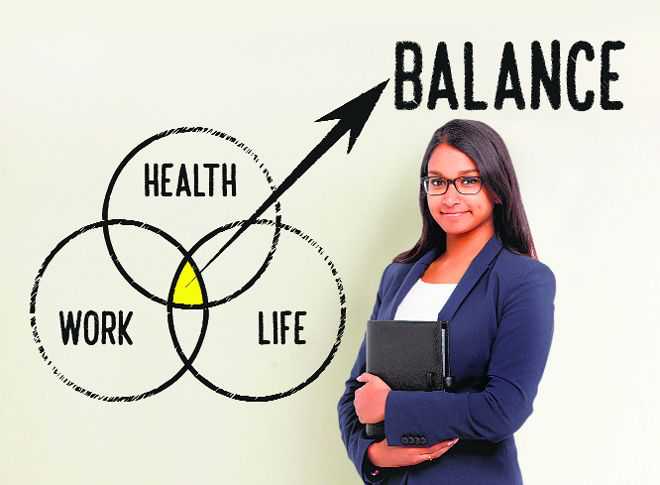 Swati Khatri
#BalanceForBetter is the theme for this year's International Women's Day as for women world over maintaining a life-work balance remains a major challenge. Family support, an understanding spouse and a fully sensitised workplace are the main planks on which a working woman's balance hinges. While each individual has a different strategy to maintain this balance, there are some broader principles which are being followed in workplaces to allow women achieve this balance. Women in leadership positions have not just created policies to help other women but have also inspired other women through their success and will power. We chat up with some women and men having diverse work profiles to know how they have helped women in their professional circle maintain this balance.
Organisations to the fore
Sanjukta Mukherjee
VP HR and CSR; Cravatex Brands Limited (FILA)
"We know that for a lot of women in India motherhood comes in the way of their professional lives. Understanding a woman's desire to not compromise on her career aspirations, we introduced a six-month maternity leave policy way before the Maternity Benefit Act, 2017 was passed. FILA being a sports-fashion brand, has been constantly promoting a healthy and active lifestyle especially for women employees for their overall growth. We constantly endeavour to address the challenges that women face not just at critical life stages but also in their day-to-day work life hurdles by providing accommodating work hours and freedom to work from home".
Shruti Aggarwal
Co-Founder of StashFin, a digital lending platform
"About 40 per cent of our company's workforce consists of women. We have hired women who are leading a number of functions from sales, operations to customer support. They also have the liberty to choose holidays as per their requirements".
Savneet Shergill
Director, India Talent Acquisition, Diversity & Inclusion, Dell Technologies.
"Today more companies are aware that lack of gender diversity is a serious problem and have become dedicated in their efforts towards bridging the gap. Dell has recently launched a part-time policy which enables the employees to opt for a part-time role without having to take career breaks. Our programe RISE enables and empowers women employees to take ownership of their careers and build support systems to help deal with different challenges. We also focus on hiring women returning from career break".
Rachna Mukherjee
CHRO, Schneider Electric India.
"At Schneider Electric we believe that it is critical for everyone, and especially women, to strike a balance between professional and personal lives. We empower our women workforce with a strong set of policies which allow them with options like time off, including our unique Global Family Leave policy for women for care giving, then there is the maternity leave, flexi work arrangements, sabbatical policies and several well-being initiatives. We help not just our employees but the society at large through our unique women centric development programme".
Zainab Cutlerywala
HR Manager / Accounts Executive at Hats-Off Digital Private Limited
"We ensure all female employees feel safe to work here. Transparent communication between female employees and co-workers. Working pattern is flexible in case of emergencies for working women. No stretching or working till late night, they are given the leverage to work from home if in case they have not completed the deadline on time".
Vaibhav Pande
CEO, Twin Win
"We train women on time management, stress management and work-life balance. It is very important to delegate some time every day on skill development. Plus, I motivate them to have no regrets. If you miss out on some professional target because of personal commitment or vice versa, you need to relax and say to yourself 'There is always a second chance'.
Individual strategy
Charu Vashisht Sahni
Owner, Time Machine
"As a restaurateur, I have a wide network span and have constantly been meeting women around me who have all taken their vote of strength and perseverance. I try instilling a light of hope in every woman around me and making sure they go on doing what Beyoncé told them, "Who run the world? Girls".
Geetika Saigal
Writer
"We wear many hats in our lives and that is what makes us unique, interesting individuals. What I have learnt and encouraged all women, is to follow a flexible holistic approach. To build one's own daily rhythm and schedule to accommodate the numerous commitments & desires. To learn the art of 'being in the moment' — focusing on the goal at hand, reward oneself for every achievement e.g. taking both planned vacations and short extended weekend breaks after a draining project. To quote my book Finding Your G-Spot — multi-tasking gets you nowhere, doing one thing at a time well, does'.