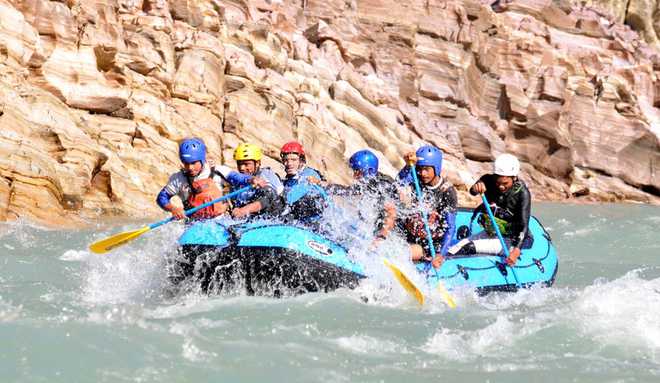 Kuldeep Chauhan
Tribune News Service
Shimla, January 9
Rafting aficionados today made a fervent plea to promote the Pandoa-Chaba-Tattapani route of the Sutlej for commercial rafting for walk-in tourists and professionals along the lines of the Alaknanda-Rishikesh rafting hot spot on the Ganga in Uttarakhand that promote adventure tourism and provide employment to local youth as river guides and trainers in the Shimla tourist circuit.
"The Sutlej is the only river in the country which promises flat and drop in the river offering rafting for nine months and is the safest river for the purpose," said Sikand Shaukat, secretary general, Flat and White Water Federation of India (FWWFI), which is organising a rafting competition on the river these days.
"It takes 12 hours to reach Sunni in Shimla from Delhi, whereas it takes six hours to reach Rishikesh. The second HP Tourism Department allows rafting here in ice-cold winter months and allows no beach camping as is done in Rishikesh. The rafting in the Beas has picked up in Kullu-Manali, but Sutlej despite its vast potential remains as unpopular rafting destination in Shimla among tourists and rafters," he said.
The Sutlej promises more than what so far has been done for rafting expeditions, mainly from top-end schools in the Shimla-Chail, Solan area, said Dinesh Thakur, a team leader from Bishop Cotton School, Shimla, who led various rafting expeditions from the school to Alaknanda-Rishikesh rafting stretch that has emerged as the country's white water rafting hot spot and Tista in Nepal over the years.
"It needs a political will and the HP Tourism Department, PWD and private operators' association should pool in efforts and improve roads and provide easy and cheap transport to Tattapani and Chhaba," said Thakur, citing the example of Uttarakhand where rafting has become a source of revenue for the government and a source bread and butter for thousands of raft operators.
There are not more than two hotels in Tattapani. Rafting amateurs who visit Shimla have to brave the bad road as the rafting stretch is located more than 70 km from Shimla and it costs Rs 3,000 as transportation, said Subhash Chand, a raft operator from Sunni.
The Tourism Department should run cheap transport service from Shimla for tourists and create infrastructure there, rafters demand. The Sutlej promises two commercial stretches for rafting – 6-km-long Sunni-Tattapani and 12-km-long Chaba-Tattapani river stretches. The Pandoa-Chabba-Tattapani stretch, the venue of rafting competitions, can be tapped for professionals by providing training and lodging facilities there, said Anil Shainkh, a rafter from Shimla.
It has about six class-2 and class-3 rapids that promise safe and hassle-free rafting for expeditions of youngsters, including school and college students. The best season for the school and college rafting expeditions and training would be March and April.
Director (Tourism) Mohan Chauhan said the department had been promoting rafting in the Sutlej from time to time. "We are open to suggestions, but we have to bother about security and safety of tourists as the Sutlej is a big river," he added.
Top News
Both resign in what appeared to be a choreographed release o...
Suburban train services affected on the Main and Harbour cor...
Anirudh Tewari posted as Director General, Mahatma Gandhi St...
Odisha tops overall while Himachal secures second place in s...
5 AAP legislators were inducted as ministers on Monday