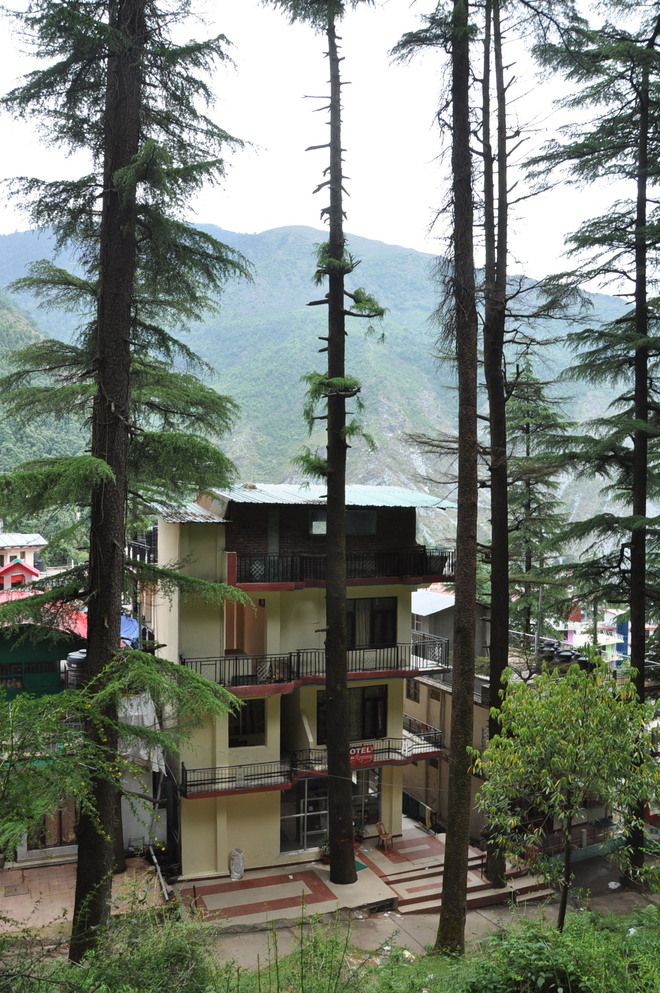 Lalit Mohan
Tribune News Service
Dharamsala, May 24
Deodar trees in McLeodganj, Bhagsu and Dharamkot areas near Dharamsala are under threat. The trees have been taken inside the constructed areas of commercial buildings coming up in these areas. In some cases, trees stand in the middle of buildings which illustrates that the building constructed around these are illegal.
Sources told The Tribune that taking green trees inside the constructed areas was a ploy to cut these in the near future. Once they are inside the constructed areas, owners of the buildings move applications before the local authorities that these are threatening their buildings and needed to be cut off.
Most areas that have deodar trees in Dharamkot, McLeodganj and Bhagsu fall under the Dharamsala municipal council. The council does not have any record regarding the number of green deodar trees standing in the areas. The Forest Department does not involve itself in managing the forest cover in the area on the plea that the area falls within the limits of the municipal council.
Another interesting fact is that the permission for felling trees for bringing commercial complexes is being given freely. Foreign tourists who have been coming to McLeodganj, Bhagsu and Dharamkot for the past several decades have started an online campaign to save the old deodar trees.
They have written an online petition on Awaaz.org for the CM to save the deodar green cover. Some foreign tourists said they had asked all people, concerned about the green cover, to click photographs of the green trees being felled and put them online.
They have also contested the claim of the department that just 17 trees have been felled in McLeodganj, Dharamkot and Bhagsu.
Top News
Says 2004-2014 was a lost decade but 2030 will be India's de...
UPI soon for all in-bound travellers, coin-vending machines:...
He said the prime minister did not answer the questions he h...
All promotional cases to be kept outside the purview of the ...
Three-member collegium also recommends appointment CJs of hi...