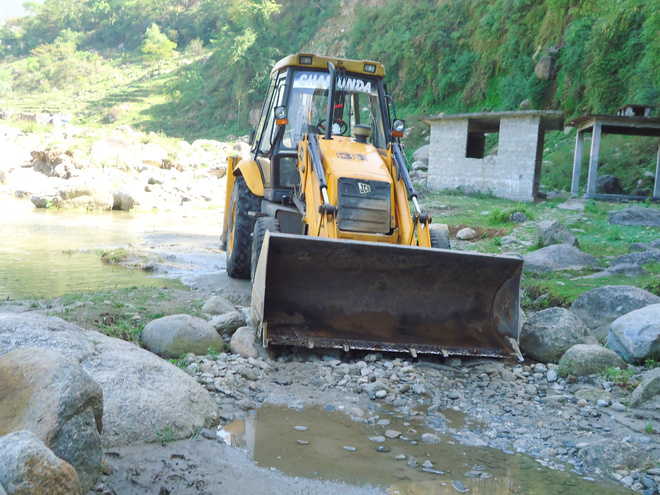 Ravinder Sood
Palampur, February 7
Despite the National Green Tribunal (NGT) banning mining along the Neugal river last month, the illegality is being committed with impunity.
A bench of the NGT headed by its chairman Justice Swatanter Kumar on the petition of local resident Baljeet Singh Bhateria had imposed the ban on mining, quarrying, lifting of stone and sand.
A large number of trucks are seen lifting sand from the area near Thural and Bair Ghatta every day.
Superintendent of Police and Deputy Commissioner, Kangra, has failed to check the practice. Illegal mining along the river is not only impacting the environment, but also causing huge losses to the state exchequer.
The practice has resulted in deforestation, land slides and flash floods. Over 20,000 hectares has been affected by the mining , quarrying and other activities along the river between Bundla and Sujanpur.
It is a threat to 100 irrigation and drinking water supply schemes, local paths, village roads and cremation grounds.
The issue is under the scanner of the HP High Court. The court has treated a report published in these columns last year as a public interest litigation (PIL).
It is learnt that the mining mafia is charging cess from operators of tractor-trailers and trucks.
Top Stories