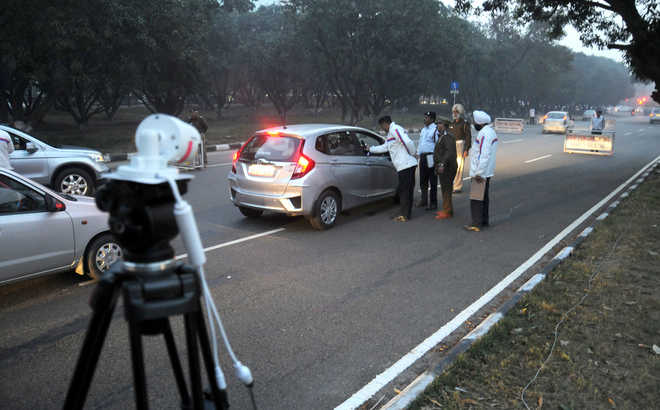 Nitin Jain
Tribune News Service
Chandigarh, December 29
Vowing to end corruption in the Chandigarh Police, especially its traffic wing, UT police chief Tajender Singh Luthra has put his men and women on field duty under radar with the help of high-end 4G Internet wireless cameras.
Under the first-of-its-type innovation, christened Divya Drishti, all police nakas (check-points) in the city will be held under the gaze of high-definition 4G Internet cameras, which will record and live webcast the proceedings to the Police Control Room (PCR). Besides, the police personnel on nakas will wear sophisticated body cameras to record and transmit live their actions on duty.
Sharing his brainchild with The Tribune here today, Inspector General of Police (IGP) Luthra said the Divya Drishti pilot project had been launched with the help of the first set of four each 4G wireless and body cameras.
"With this, while sitting in our office or on the move, we can keep an eye on the quality of traffic regulation, enforcement and challaning by our men," the IGP said.
To check the working of the pilot project, the UT top cop has connected the 4G as well as the body cameras with his personal laptop through which he views the entire action at the naka which is put under Divya Drishti.
"We are going to extend this concept to at least 20 nakas at a time within six months with the procurement of 80 4G wireless cameras and 25 more body cameras," Luthra revealed.
Making clear his zero tolerance towards corruption, rude and insensitive behaviour and highhandedness by his force, the IGP said he would bring the entire traffic regulation and enforcement by the traffic police under the eyes of these cameras. "This way, we will be able to verify the allegations of highhandedness, rude and insensitive behaviour on both sides," he revealed, while promising just and fair action on the basis of real-time feed.
At present, under the pilot project, a spot is selected where traffic challaning is done under the gaze of these cameras daily.
"My idea is to enhance surveillance on traffic challaning in the city and put an end to the corrupt practices involved in the system," the UT top cop added.
Top News
The minister inaugurates Chief Judicial Magistrate court, Ma...
'I am Rahul Gandhi, not Rahul Savarkar,' he said when asked ...
Former Union Minister Ravi Shankar Prasad says stay on convi...
The plea is filed by a Kerala-based social activist
Amritpal has been on the run since March 18