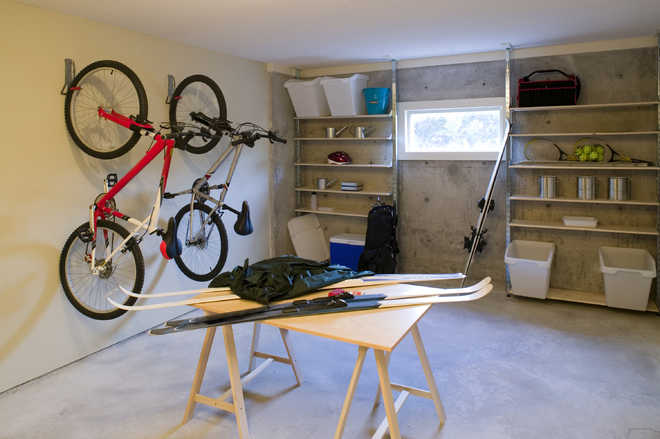 Jagvir Goyal
One query that often lands in our inbox is whether one should build a basement or not. This query is usually coupled with a request for an urgent reply as the architect has to be told by the house owner accordingly as further planning and design can be decided only after this decision. So let's have a look at various aspects related to basements:
Why the hesitation
The question whether to go for a basement or not, stems from the apprehension and doubts. The reason behind such hesitation can be some superstitions too. Many people believe that basements are not auspicious for a house and its inhabitants. Why such beliefs? In older times, basements were dark and dingy without proper lighting and ventilation. Mostly, these were used for dumping old and discarded items. Such neglect of the basement area led to the beliefs of their being inauspicious and people started avoiding their provision. The word 'tehkhana' used for it has been the "scene for action" in many horror movies. These beliefs, however, are baseless.
Say yes to the room below
A basement can be a boon for a house owner if it is planned and provided properly, and above all, well maintained thereafter. The basement area can be used for multiple purposes. A professional like a doctor, a lawyer, a CA or a practitioner can make best use of the basement of his house for promoting his profession without disturbing the home and family environment on ground and upper floors. Otherwise, a family can use it for a home theatre, a home gym or as a well-planned storage space.
Technical requirements
If viewed technically, the tilt remains in favour of the provision of a basement. Especially, if the house plot is low-lying, provision of a basement is the best solution instead of filling up all the low lying area with earth which often doesn't compact well and leads to settlement of floors. Why to fill the available volumetric space with earth and waste it? It is better to raise the walls and add a basement to the house. Shrinking spaces are another factor. In small sized plots, one can have more livable area on upper floors of the house by creating storage space in the basement.
Go for RCC structure
Always choose RCC structure for the basement. The foundation, walls, floor and the roof slab-all should be in RCC. This decision will help in making the basement dampness proof, a problem that most house owners fear about basement. Don't succumb to the practice of raising brick walls with a central reinforced core. For RCC, choose M20 concrete grade or 1:1.5:3 concrete. The steel reinforcement in footings, walls, floor and roof slab should be designed by a qualified structural engineer, normally attached to the architect. This is important because the structural engineer will count the earth pressure on the walls of basement while providing steel reinforcement in them.
Conduits and switches
Wherever RCC is laid in the house, it is very important to embed the electric conduits and switch boxes in it at the designated locations before laying concrete. While in the brick walls, chase is cut after raising the walls and conduits are embedded, in case of concrete, it is not possible to cut RCC. As the whole basement structure is in RCC, it is important to embed all conduits, switch boxes, fan hook boxes, light boxes in it.
Treat the outer face
Always paint the outer surface of RCC walls of the basement with water proofing black epoxy paint before filling earth around basement walls. Avoid painting the walls with bitumen. These water-proofing paints for external surfaces of walls are especially prepared for easy working, better water proofing and can be applied even when walls have moisture in them while bitumen has to be applied when walls are completely dry. These paints become rubber-like on drying while bitumen turns hard.
Basement flooring
For laying basement flooring, the soil should be well compacted and all grass and weeds should be removed from it. A 4-inch thick layer of fine sand should be laid on it followed by a double layer of polythene sheet. Now, the RCC layer should be laid. Steel in RCC can be simply a grid of 8 mm diameter bars in both directions. Thickness of RCC floor should be at least 3-inch with water-proofing compound added to the concrete. Prefer vitrified tiles over marble in the basement floor.
---
Add water-proofing compound
Choosing RCC instead of brickwork helps in making basement water proof. However, it is always better to add a good water proofing compound to the concrete laid in basement foundation, walls and floor. For every bag of cement to be used while preparing concrete, only about 1 kg of water proofing compound is added. The required quantity of water proofing compound should be procured by estimating total number of cement bags to be consumed. Use a good brand of water proofing compound.
Essential features
A basement must have adequate lighting and ventilation. One switch on the side wall of the entrance to the stairs flight leading to basement should switch on all its lights and flood it with light. The ceiling level of basement can be kept higher than courtyard level and all around ventilators, sealed well against entry of water and fitted with exhaust fans can be provided in the vertical space between the courtyard level and basement ceiling level. Otherwise a duct can also be provided to lead light and air to the basement.