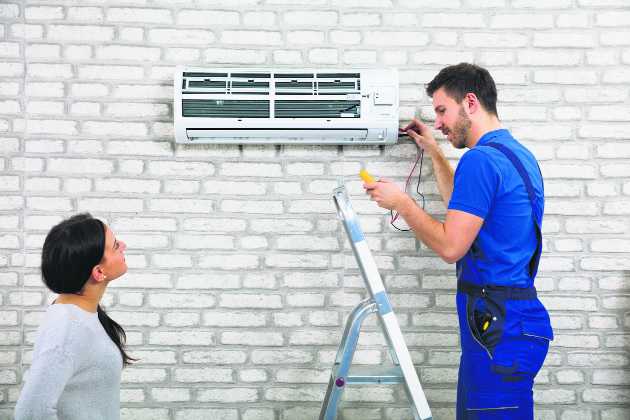 Jagvir Goyal
Air conditioners are no more a luxury and are added essentially during the construction of the house these days. However, in cases where the AC has to be added to an already constructed building, is a matter of concern for many. It can turn out to be a tedious as well as costly affair as the installation can damage the wall (paint as well as masonary work), or requirw resizing the windows. Certain precautions are needed in this process. . Let's have a look at important aspects of installing an AC in a constructed building:
Three requirements: Adding a split AC to a house demands three types of connections to it. First is obviously, power connection. Second is connection to the outdoor unit and third is the drainage connection. In a window AC, you simply need a power connection but split AC demands these three connections, done in proper manner, to avoid wall dampness, damage to finish or visible wires and pipes.
Make provisions for future While constructing a new house, always make provision for these three connections in every room irrespective of your staunch decision of not adding an AC to some particular rooms. Provision of ACs being a costly affair and demanding higher load power connection, these are commonly added to main bedrooms, drawing room and lobby only. All bedrooms, first floor lobby area, study and basement are not provided with AC points. Here, never ignore to make conduit provision, power switch connection and drainage connection for these rooms, leaving their inlets suitably plugged. You'll marvel at your this decision at a later stage.
Space for window AC Provision of window ACs in houses is on the decline. These are sometimes preferred due to their lesser cost and easy installation but often defeat the purpose of the window to which these are added. The window doesn't remain a window any more. The light, fresh air, the beauty of the window and the outer view, are all lost. The water drops falling on the outer floor are a nuisance as generally a drainage provision is not there. Yet if you are determined to add these, keep proper space for them in the window frame or in the wall. Keep this space well sealed with glass or plywood till provision of window AC.
Drainage system The split AC added to the room has to be provided with a drain pipe that carries the condensed water from the unit to the drainage point. The drainage pipe can be taken out through the same wall hole and led to a drainage trap. Often the joint of drainage pipe to the indoor unit is not made watertight, leading to dampness in the wall or water drops tricking down from the indoor unit. The indoor unit should be so installed that all water is channelised to the drainage outlet. Further the joint of unit with drainage pipe must be sealed well and made leak proof.
New accessories These days, more PVC accessories and fittings are becoming available to conceal all pipes and wires running from indoor units to the respective outlets. These accessories like pipe concealers, fixed offsets, slim corners, 90 degree up down corners, wall corners, slim joints, end covers, flexibles with end cuffs are available with reputed manufacturers like Daikin and can be used to give a neat and clean look.
Power wiring
Running exposed cables from the AC unit to the stabiliser and further to the power socket in a zigzag manner completely spoils the finish of the wall on which the indoor unit of split AC has been installed. These wires should be encased in the PVC channel fixed properly on the wall exactly along the vertical and horizontal lines. First of all, vertical channel from the unit to the skirting of the room can be provided and then these can be taken along the skirting to the power socket. Often, wires are made available in the walls by the builders for future provision of electrical fittings and appliances. If available, these should be used for power connection.
Copper piping
Two copper tubes, called refrigerant tubes connect the indoor and outdoor units. One pipe carries refrigerant from outdoor unit to indoor for creating cooling effect and the other pipe carries it back for compression and recirculation. Both tubes are insulated. This copper piping is a costly item and its rate is quoted for the pair of pipes covered by one insulation. Always choose piping with good insulation and avoid China-made piping. Otherwise the insulation of exposed part of piping near the outdoor unit will wear off soon and the refrigerant will lose its cooling. Get the exposed part of insulation covered with white PVC tape to avoid wear and tear.
This job is done by service providers at very little cost.
Hole for the conduit
Problems arise while adding a split AC to a room at a later stage where provision for the three connections has not been made. The most important provision now to be made is to connect the indoor unit to outdoor unit for piping and electric connection. A PVC conduit is to be laid from indoor unit to outdoor unit for carrying the copper piping along with electric wires and connecting the indoor and outdoor units. A hole of 2 inch diameter has to be made in the wall for taking out the conduit carrying piping from the indoor unit to outdoor unit. Skilled workers should make out this precise hole without damaging the inner and outer finish of wall and without drilling a hole bigger than required.
Top News
Shashi Tharoor will file his papers today and May later with...
With the latest hike, the repo rate or the short-term lendin...
Bumrah was on Thursday ruled out of the upcoming T20 World C...