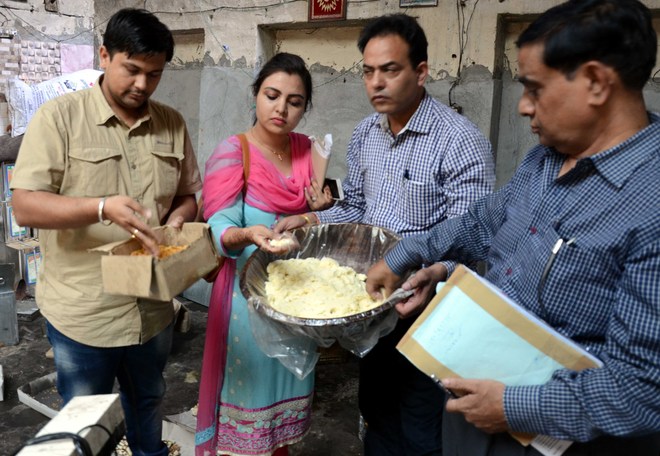 Manav Mander
Tribune News Service
Ludhiana, November 1
Yesterday's seizure of khoya and milk cake from Unique Food Factory by a team of the Health Department has once again brought to the fore the menace of adulteration during Diwali.
Diwali is round the corner and festivities in our country are incomplete without the traditional sweets. But one needs to be cautious before eating their favourite sweets as it might be prepared with spurious khoya, synthetic colours and foils.
In order to make huge profit margins, local traders and sweet makers use substandard products, leaving consumers vulnerable to ailments such as vomiting, food poisoning, stomach aches and infections. Unscrupulous sweet makers use chemicals and artificial colours to prepare sweets. The more a sweet looks attractive, the more are the chances of its being prepared with spurious ingredients.
"We are carrying out extensive checking of food products in view of the festive season. Raids on sweets shops to check the quality of sweets are being conducted regularly," said the District Health Officer, Dr Abnash Kumar.
Supriya Shah, a resident of Sunrise Colony, said adulteration in sweets was very high during the festive season. Therefore, she preferred to buy branded sweets.
"Despite provision of strict action against those indulging in adulteration, huge quantities of adulterated milk products, including ghee, khoya and mawa, are seized by the authorities concerned during the festive season every year. Such seizures every year deters residents from buying sweets from the local shops," said.
Common adulterants
Milk is usually adulterated with water, chalk, urea, soap and other whiteners.
Ghee is most commonly adulterated with mashed potatoes and vanaspati. Edible oil may be adulterated with angemon oil and mineral oil.
Khoya generally has adulterants such as paper, starch, blotting paper, fine flour, refined oil, skimmed milk powder and water.
Besan laddoos are generally adulterated with kesari daal (animal feed unfit for human consumption).
Gulab jamuns have adulterants such as spurious khoya and paneer.
The common adulterant in rasgullas is chhena, which is prepared from synthetic milk, which in turn is made from caustic soda and detergent powder.
Ice creams might contain washing powder.
Vark (foil) might be replaced with aluminium foil by unscrupulous sweet makers.
Check it yourself
Take one spoon of ghee and add an equal amount of hydrochloric acid. Then add some sugar to it. Shake it for one minute. The presence of vanaspati can be detected if the base of the acid shows dark red colour.
Similarly, to test adulterant in edible oil, add a few drops of nitric acid to the sample and shake it well. The appearance of reddish brown colour shows the presence of angemon oil in it.
Put a drop of milk on polished vertical surface. The drop of milk either stops or flows slowly leaving a white trail behind it. If it contains water, it will flow down fast without leaving any mark.
Another test to detect synthetics or the presence of starch in milk is by adding a few drops of iodine to milk. The presence of blue colour confirms it is adulterated with starch.
Boil khoya with some water. Cool it down and now add a tincture of iodine to it. If blue colour appears, it means the khoya sample has starch.
A simple method to detect adulteration in ice cream is to add a few drops of lemon juice to it. If bubbles start appearing, it means the sample is adulterated.
Just rub the foil sample on your palm by your thumb. If it's aluminium, it will stick to your hand. If it's pure, then nothing will remain on the palm.