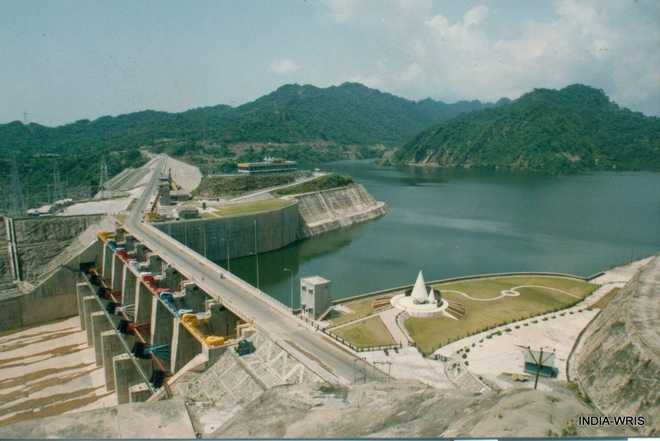 Ravi Dhaliwal
Tribune News Service
Pathankot, April 26
On November 8, 2014 Deputy CM Sukhbir Singh Badal chartered a flight for the country's top hospitality honchos, brought them to Pathankot from New Delhi, ferried them to the Ranjit Sagar Dam lake and promised them the moon after taking them on a guided tour in a boat.
All the hype and hoopla surrounding the visit percolated to the lowest levels with real estate owners — a majority of them being fly-by-night operators — taking up the cue and buying properties near the dam to make a killing. However, 18 months down the line, things are back to square one with not even a single brick being laid. The corporate honchos, for whom the red carpet was rolled out finally found that Sukhbir had sold them a mirage.
"Things would have remained hidden but for the fact that last week when Sukhbir was in town he asked his PR men to issue a statement that the RSD lake would be developed into a tourist spot. The press note was out, so was the cat from the bag," averred senior Congress leader Vinay Mahajan.
Sukhbir had made the same statement through a press note then. This, for all practical purposes, means that during this period nothing tangible was done by the state government.
The area, to be developed by the state government, is located at the tri-junction of Punjab, Jammu and Kashmir and Himachal Pradesh.
Kalara, which is a naturally formed island in the 14 sq km lake, is spread over 17 acres while Musharba has an area of 2.35 acres. Both these places were keenly eyed by top guys of hospitality sector including Kapil Chopra, president of Oberoi Hotels and Resorts, Arun Pathak, executive vice-president of ITC Hotels; Mohit Gujral,vice-chairman of DLF group; DK Berry, senior vice-president of the Taj Group of Hotels, Dilip Puri, MD of Starwood Hotels and Resorts, Ashish Gawari of The Lalit Hotels, Cyrus Madan, vice-president of The Lemon Tree Hotels and Mukul Anand, executive director of the ITC group of hotels.
Local property agents purchased large tracts of land immediately after Sukhbir left after making his grand announcement. Plots, which were purchased in the nearby Dhar block, have no buyers now.
Mayor Anil Vasudeva said that if just 50 per cent of what the Sukhbir promised is established it will be a boon for the economy of Sujanpur and Pathankot cities.
"The hotel industry which is lying dormant for the last two decades can be revitalised if this tourist spot is developed. The economy can register a positive growth rate giving employment to many," he said.