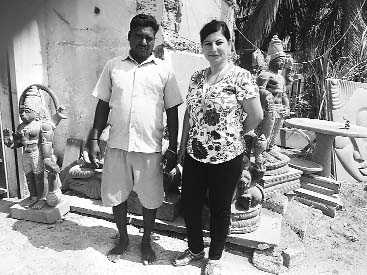 Patiala-based Arun Kumar Bajaj never knew his paintings, made out of thread, will catch the attention of an e-retailer. He has sold his paintings across India through exhibitions. But now he sells his wares sitting at home: a company has offered him an online platform to take heritage legacy to consumers.
Ludhiana-based Rajiv Gupta sells phulkari made by village women in Punjab to the entire country through an e-commerce player. He is now less dependent on local markets.
There are many more such success stories of rural artisans. E-commerce companies are reaching out, educating and engaging artisans from remote corners of India. The size of the Indian handicrafts Industry is estimated about $5 billion per annum, according to industry experts.
"The e-commerce boom in India has not only helped the consumers, but also given many opportunities to the sellers. An example is the Dharavi slums in Mumbai. The slum dwellers sold leather products for many years. Today, their business has gone up substantially because they are able to sell," says Sahil Chopra, CEO and founder, iCubesWire,
As per figures in the 12th Five Year Plan (2012-17) document, there are 10 crore rural artisans in the country. While offline retailers benefit from major e-commerce players by putting up their products online, rural craftsmen and artisans are left behind. Brokers and middlemen take away their profits.
In recent years, e-retailers have come to the rescue of the artisans. They assist them in manufacturing, packing and marketing online. Platforms such as CraftsBazaar, Trendybharat.com, Farida Gupta, GoCoop etc are working with rural artisans.
"Superior artistic products produced by Indian artisans are losing out to the mediocre in the absence of technology. So, currently we are not only selling the products of rural artisans to the Indian market but also serving overseas markets such as in the US, UK, Germany, France and the Middle East," says Aparna, Challu, founder, CraftsBazaar.
"The current retail market is largely unorganized. The lack of exposure and channels of supply has led to a stunted growth of the sector. So, the digital market can change the situation," says Varinder Singh Jawanda, founder and CEO of Trendybharat.com.
His company has created a special curated collections corner for the products from the local artisans for foreign buyers.
Also, Farida Gupta's women apparel business is committed to bringing together a varied range of traditional crafts and techniques. The group has successfully built its online presence, resulting in an increase of 400% year-on-year profitability.
Reaching out to rural artisans is difficult in the early stages. "Initial challenges lie in convincing the artisans that we were not going to cheat them and that we are going to stay. At times we had to make payments before they manufactured products," says Aparna. Persuading every rural artisan is difficult as most of them have been conned by those who promised to sell their products, but never returned.
Another challenge is there are no smartphones in rural areas. So at times retailers have to educate the people and even upload pictures on their behalf. Then, many artisans do not have bank accounts. E-tailers assist them with it, convincing them about self-sufficiency and identity formation.