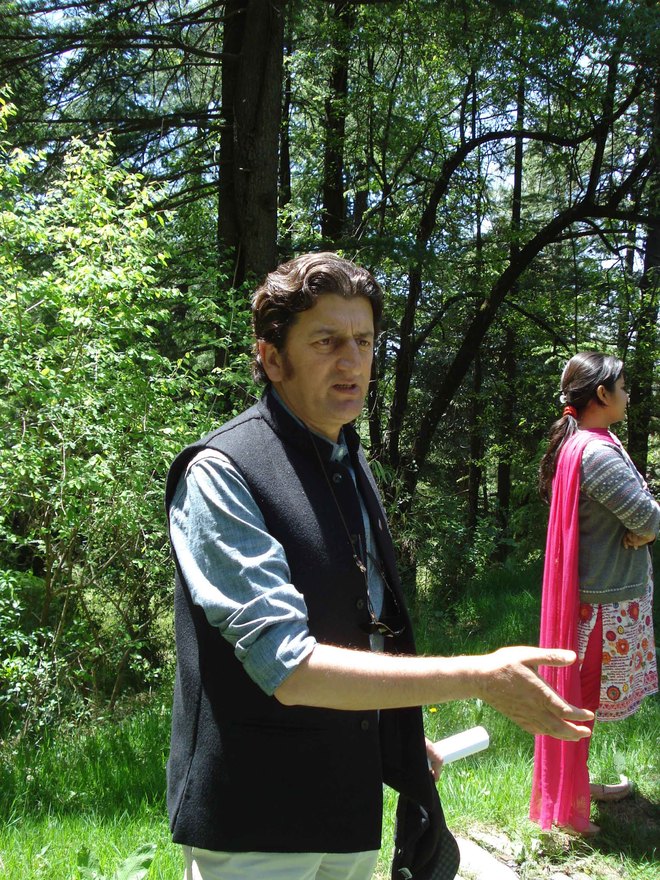 Shriniwas Joshi
When Dr Vaneet Jishtu, a scientist in the Himalayan Forest Research Institute (HFRI) (See photo), telephoned me to visit the arboretum raised by the HFRI at Potters Hill under his eye, I immediately agreed because I knew that visionary Vaneet must have done a good job.
An arboretum is a place where an extensive variety of woody plants are cultivated for scientific, educational and ornamental purposes. The one at Potters Hill, about 7 km west of the town, is the Western Himalayan Temperate Arboretum, the first ex-situ native plant conservation facility in the region.
"There are no exotic plants here and the idea of having only native plant conservation was of Vinay Tondon, the then Principal Chief Conservator of Forests", says Vaneet. The arboretum provides a homeport, research and propagation facility for the amateur and professional gardening community in the region.
About three-year old arboretum spread in almost an acre-plus of land has chilgoza pine from Kinnaur, dhoop plant from Lahaul and Spiti, bhojpatra, Anokhi Dali on whose name a festival is held near Jubbar Hatti in December every year, ginko biloba, variety of acers, wild orchid, a portion is reserved for medicinal plants too, mahorias, oleas, solanum and much more.
The layout is striking, zigzag, undulating pathway through the blooming irises and the growing-up plants, the small bridges made of local wood with railings to match, bamboo benches, kiltas hung on trees as "Use Me" for wastes, gazebos and an amphitheatre. The ambience is such that one feels oneself in the land of heritage and greenery amid tall deodars where the common Shimla birds chirp and sing. The arboretum needs to be added to the itinerary of every tourist who visits Shimla.
My visit to the place was on April 22 which happened to be Earth Day. I had thought that Earth Day was confined to the lecture that I give on it in the university or elsewhere. I was proved wrong because Sister Stephanie, the Principal of Loreto Convent, had come there with teachers and children to know about the arboretum and the plants. The seriousness of the students is visible through the copies in hands and their 'I-want-to-know-more' body language (See photo). I appreciated it and came to know that Government School, Laal Paani, was the next to visit the place.
I asked the question, "When Earth Day was first celebrated?" The students knew that it was celebrated for the first time on April 22, 1970. They appeared to be more aware than we are and it is a good sign because they are the future of India. It was Gaylord Nelson who founded the day when he was a US Senator. Naturally, the day originated in the USA but was recognized worldwide by 1990.
Earth Day has two concomitants – save the environment and sustainable development. When I told students that we should treat the Earth as if we had borrowed it from our children and not inherited it from our forefathers and a borrowed thing had to be returned as it was at the time of borrowing, I found many faces carrying the expression that they were aware of it and that was a pleasing note to me.
How was it named Earth Day? There is an interesting story behind it. Nelson had thought of calling it the National Environment Teach-In. He had a friend Julian Koeing who was a New York Advertising Executive. Nelson asked him to think of the name for the day. It was just coincidence that Koeing's birthday was on April 22. He thought of Earth Day rhyming with birthday and decided to call it Earth Day, so the name stuck. Nelson who thought it to be Environment Teach-In wanted maximum participation of students and he felt April 22 was the right date when there were no holidays in educational institutes, no examinations, no religious festivals and a decent weather. Hence, the date fixed.
I told the students that every Indian has to be proud that Earth Day Anthem was written by an Indian Abhay Kumar that opens with: "Our cosmic oasis, cosmic blue pearl/ the most beautiful planet in the universe."
Top News
Situation in Sasaram and Biharsharif normal, say police
Notably, Shah's tour of Sasaram in Rohtas district has been ...
The Kabul-born Durani played 29 Tests
Bodies of eight persons were found on Friday in a marsh on t...
'Plot to impose President's rule in Punjab'