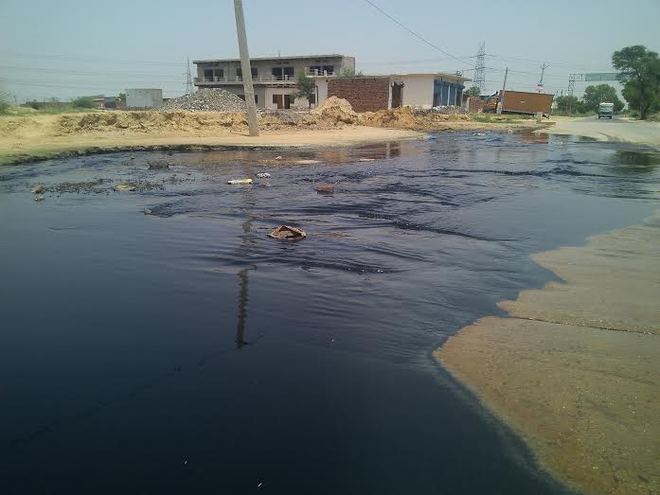 Ravinder Saini
Tribune News Service
Dhaaruhera (Rewari), May 18
Effluents released from industrial units at Bhiwadi (Rajasthan) in fields and residential areas of Dhaaruhera town in the district have become a cause for concern for locals.
Both Dhaaruhera and Bhiwadi are neighbouring towns on the Haryana-Rajasthan border.
The liquid waste not only gets accumulated on main roads and streets of Sectors 4 and 6, but also submerges fields in Nandrampur Bans village, taking a toll on the fertility of land. Besides, it has polluted groundwater to a large extent.
"The discharge of effluents has continued for long, but the district authorities have not been making effort to resolve the issue," claimed Ramesh of Sector 4.
Residents have blocked roads to attract the attention of higher authorities, but to no avail. Now, they have approached the National Green Tribunal (NGT).
"The chemical waste has reduced the productivity of land by up to 40 per cent. Moreover, groundwater has been contaminated. Farmers have to fetch water from their houses for the irrigation purpose," Vikram Singh, a farmer of Nandrampur Bans village, said.
Another farmer Om Prakash said farmers covered their noses while working in the fields because of the foul smell emanated from the waste.
"The district administration has during meetings with Rajasthan officials objected to the discharge of waste in Dhaaruhera. Every time, Rajasthan officials assure us of not letting their units discharge effluents in Haryana, but they have not mended ways," Rewari SDM Munish Nagpal said.
Top News
A cavalcade of seven security vehicles took Harjit Singh fro...
Kishida's surprise trip to Ukraine comes just hours after he...
Indian-Americans express outrage at the incidents of vandali...
International Monetary Fund's Executive Board approvs a 48-m...
Limited budgetary allocation for research in health is a maj...