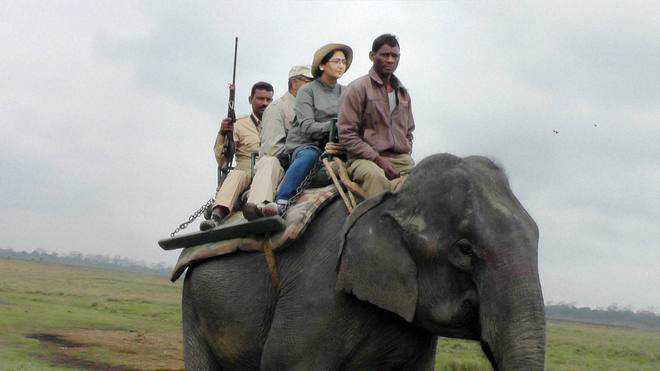 Jotirmay Thapliyal
Tribune News Service
Dehradun, November 25
Raja, Radha and Rangeela, three elephants at the Rajaji Tiger Reserve, are all set for the elephant safari that is now being resumed at Rajaji after nine years. Raja is a male elephant while Radha and Rangeela are females.
Arundhati, a famous female safari elephant at the Rajaji Tiger Reserve, then Rajaji National Park, which died in 2007 after it was injured while on patrol. The elephant safari was abruptly closed at the park. Tourists were upset at the closure of the elephant safari as it was a big charm at the Rajaji park.
After lengthy formalities, the Rajaji Tiger Reserve has managed to get permission from the Central Zoo Authority to restart the elephant safari. As part of the preparations, the reserve authorities have got its mahouts trained in Kerala so that the safari is conducted in a safe and proper manner.
Rajaji Tiger Reserve Director Sanatan told The Tribune today that the resumption of the elephant safari was a big achievement for the reserve as it was tough getting permission for it from the Central Zoo Authority.
He said four persons, a guard and a mahout would sit on an elephant in the safari, which would cover a 4-km road trek in an hour. The safari would be conducted in the wildlife rich region of the Chila range of the reserve. A fee of Rs 300 per person would be charged for the safari.
Sanatan said there was no other immediate plan to bring more of camp elephants to the Rajaji reserve. The safari at present would be organised only with three elephants available at the reserve.
Significantly, efforts were on for the past few years to resume the elephant safari but it is all set to be started now. The safari elephant would also be used for patrolling forest areas at the reserve.
Top News
Union sports minister Anurag Thakur puts out a tweet to this...
Gurnam Singh Charuni and several other union leaders were ar...
Modi will visit US from June 21 to 24
Forecasting agencies say the storm has been undergoing 'rapi...
Into his second term as the State Representative, Ranjeev Pu...