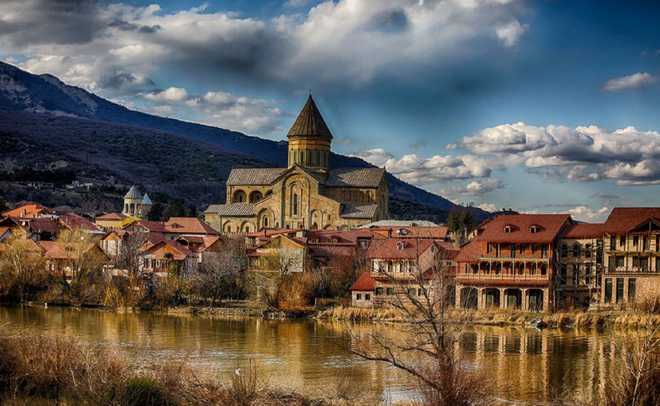 Neeta Lal
Real or surreal? I muse to myself as the car cruises on a circuitous route through the bucolic Georgian countryside. Fairytale castles, monasteries and towering pine trees pop up along the landscape as if out of a children's storybook.
Nestling at the confluence of the Mtkvari and Aragvi rivers, the Unesco heritage site of Mtskheta is located 40 minutes from Georgia's capital city Tbilisi. It offers jaw dropping scenery and some of the most outstanding examples of medieval religious architecture in the Caucasus.
"Although Georgia's capital was moved from Mtskheta to Tbilisi at the beginning of the sixth century, the former continued to be the country's religious and spiritual nucleus, as well as the coronation and burial place of Georgian kings, and the seat of the Bishop," my guide-cum-driver Chiaber Machavariani explains as we negotiate sharp mountainous bends.
At the hilltop, a spectacular view unfurls — green meadows, sherbet-hued rooftops, the Mtskheta valley nourished by the Aragvi and Mtkvari rivers, and somewhere in the distance, the roaring Tbilisi Sea.
Here lies the Jvari Monastery, an exquisitely symmetrical building accented by a dome resting on a squat, octagonal drum. A fine example of old Georgian architecture, this was where St. Nino arrived from Cappadocia, Turkey, to convert Georgia to Christianity around 337 AD. The name 'Jvari' means 'cross.' It is derived from the monastery's titanic wooden cross that attracted thousands of pilgrims as it was believed to work miracles."
Not far from Jvari lies the 11th century Svetiskhoveli (or Life-giving Column of Light) Cathedral. Jesus' crucifixion robe, which was brought to the cathedral soon after his death by Elias, is believed to be buried under a square pillar here. Story goes that Jesus' sister died of joy while clutching the robe, and so tight was her grasp that she had to be buried with it!
Svetiskhoveli remains Georgia's flagship Orthodox cathedral with its green tuff dome, elaborate frescoes, bell tower, a castle, and quaint clerical residences. So prized was its architectural beauty that according to legend King Giorgi ordered the amputation of the right hand of its architect to prevent him from building anything so enchanting ever again!
As an ancient trade route along the Silk Road, trade has been central to Mtskheta's narrative. Merchants from the Roman Empire, Syria, Palestine, and Byzantium flocked here trading in wares, leading to an intermingling of commerce and cultures. Much of that fusion is evident at the town's vibrant bazaar where shopkeepers from more than 50 nationalities sell everything from wines to local drink chacha, souvenirs, footwear, food, apparel and Georgian dolls.
Visiting the market is like a deep dive into Georgian culture, history and cuisine.
The goods are as varied as they are whimsical. I gravitate to a shop selling kantsi — a drinking horn or a traditional Georgian drinking vessel made from ram, goat, and bull horns. No traditional dinner or gathering is complete in Georgia without toasts being raised in kantsis filled with wine or brandy.
Food stalls owners generously offer free tastings samples of tklapi or fruit leather, sweet/sour snack crafted from plums, apricots, figs, and other fruits. For this, the seller explains, cooked and pureed fruit are spread thinly onto a sheet of paper/plastic and sun-dried for a week, a la aam papad.
Long queues mark the sand coffee stalls where the brew is made by nestling a pot filled with coffee and cold water on heated sand. This method apparently makes the coffee more flavourful as the sand distributes the heat more evenly. The brew tastes far more creamier and richer than the one spewed out by vending machines!
Kiosks selling churchkhela — also known as Georgian Snickers — outnumber all others. The sausage-shaped candy — crafted from grape juice, nuts and flour — is the Caucasus' most habit forming dessert.
To make churchkela, walnut halves are dipped repeatedly into thickened flour and grape juice till the dry fruits are richly coated in the unctuous batter. These are then threaded into long, hardy strings and then sun-dried for a week or till these acquire a sheen.
Top News
Police release new footage; 'Waris Punjab De' chief spotted ...
The case was filed against Gandhi for his alleged 'how come ...
Can't keep defaming people, democracy and the country and ex...
Lawyer Abhishek Singhvi discusses legal strategy with Rahul ...
In 2017, top court declared practice of instant triple talaq...