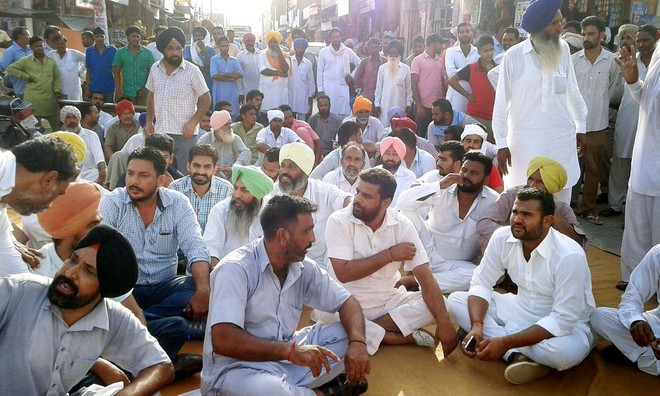 Balwant Garg
Tribune News Service
Farikdot, September 7
"Political patronage" to the encroachment of a pond in Surghur village (Jaitu subdivision) of Faridkot has raised a controversy. After some Dalit villagers encroached upon a huge portion of the village pond and the alleged patronage by a senior Akali leader proved to be a stumbling block in checking the menace, the village is facing a division on caste lines.
Last week, some Dalit families allegedly encroached about 12 kanals of the village common land and pond in Surghur. Sarpanch Iqbal Singh and some other villagers complained to the police. The police party reached the village but failed to remove the encroachment due to the alleged pressure of an Akali leader.
Next day, one of the complainants was allegedly attacked in the village. This was followed by a protest dharna by some village panchayat members and residents on Sunday, who demanded action against the accused and the removal of the encroachment. However, the police is yet to take action.
Having a population of about 3,700, Surghur village has 73 kanals (over 9 acres) of village common land. There are two ponds on this land, which are disappearing as a major portion of these has been encroached upon.
The caste-based division in Surghur started surfacing after the Akali leader supported some Dalit families in filling up the pond and raising their houses on it. It is alleged the move of the Akali leader was to increase his political base among the Dalits in Jaitu, a reserved assembly constituency.
When members of some upper castes in the village opposed this move and asked the police and the district panchayat department to remove the encroachment, the alleged encroachers demanded that the police should first remove all encroachments by people of upper castes which had come up on the village common land in the last few years.
"The panchayat land (shamlat land) and ponds in the village are being rapidly encroached upon by influential persons. The administration and police rarely help the panchayats in vacating these encroachments," alleged Iqbal Singh, sarpanch, Surghur.
Harmail Singh Bangi, Block Development and Panchayat Officer said the department would remove encroachment after demarcation.
Top News
Jammu and Kashmir Lieutenant Governor Manoj Sinha and politi...
Cops say case cracked within three days with the arrest of a...
Indonesia football association suspends league to investigat...
Samajwadi Party patron is under treatment in Gurugram hospit...
DGP dismisses Mansa CIA Incharge, FIR registered against err...