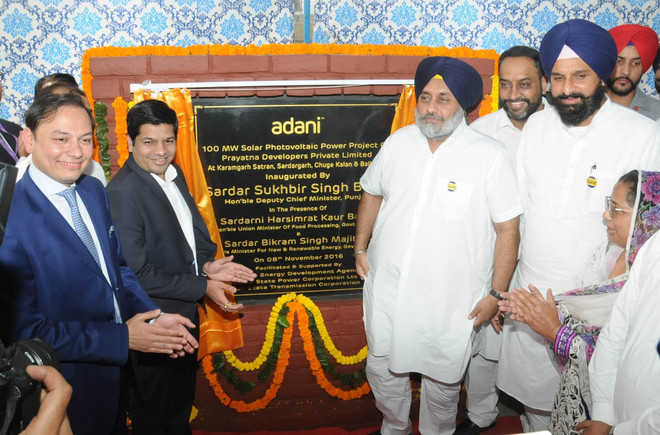 Varinder Singh
Tribune News Service
Bathinda, November 8
Deputy Chief Minister Sukhbir Singh Badal inaugurated a 100-MW solar power plant at Sardargarh village here today. He said this was the country's biggest horizontal single axis tracker plant at a single location and would be instrumental in changing the face of the state.
Set up by the Adani group, the plant costing Rs640 crore would prove to be a game changer for not only 232 farmers, who have given their land on lease for the project, but would also act as a perfect example for other regions to follow, he added.
"Solar energy is the future of Punjab. The investment in the solar power sector has increased from a meagre Rs82 crore in 2012 to Rs10,000 crore today. Our focus is to bridge the gap between rural and urban areas of Punjab in the next five years," he claimed.
"The state government is contemplating bringing approximately 25,000 acres under the purview of the solar power sector," he added.
In the next five years, all 12,000 villages of the state would be provided with sewerage facilities, solar lights and concretised streets at a cost of Rs35,000 crore, he added.
He also announced that the airport at Bathinda would be operationalised soon.
"How can this 'Topiwala' from Delhi (Arvind Kejriwal) know the problems of farmers of Punjab? Capt Amarinder Singh has been the worst-ever CM of Punjab," said Sukhbir, who was accompanied by New and Renewable Energy Minister Bikram Singh Majithia.
Majithia said, "The farmers who have given their land for the plant will get Rs55,000 per acre per annum which will increase by 5 per cent every year." He added that Mansa, Bathinda and Muktsar were emerging as solar power hubs.
"We cannot rely on thermal power only. We need to harness hydro, solar, bio-mass and coal power too," Majithia added.
Adani group Director Pranav Adani said Punjab offered a congenial atmosphere for the venture. "The Punjab government, PEDA and PPSCL extended maximum support," he added.
Top News
The BSF personnel open fire after noticing the movement of t...
India formally assumed the G20 Presidency on Thursday
The move will allow more than 200,000 workers who have famil...