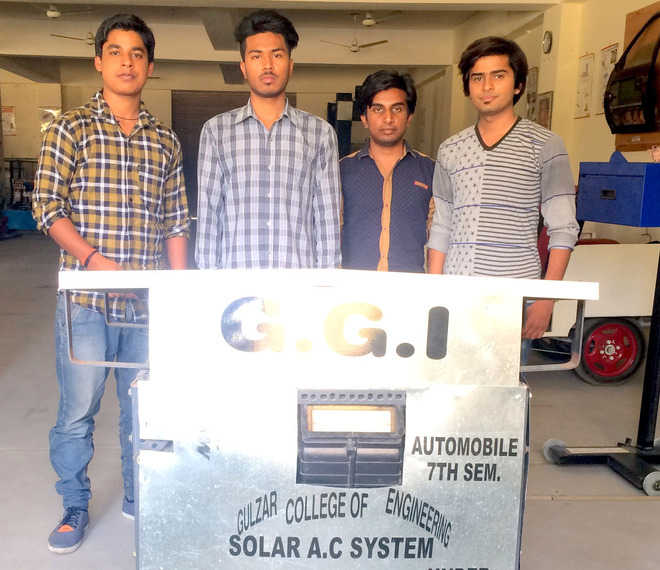 Our Correspondent
Khanna, June 2
A solar powered air-conditioner for automobiles has been prepared by a team of seven students of Gulzar Group of Institutes (GGI), Khanna, Ludhiana, at a cost of approximately Rs 40,000. The air-conditioner has a solar panel along with batteries, which get fully charged in five to seven hours.
The team comprised Prince Rajpal, Pranay Chopra, Harinder Singh, Maninder Singh, Deepinder Singh, Khushkaran Singh and Harjot Singh. While giving information about its configuration, executive director Gurkirat Singh said it contained air-conditioning system of a car of 0.75 ton which runs on a DC motor of 1 horsepower. It works on a 24 volt battery of about 65 ampere current which gets charged by solar panels.
The air-conditioner can run full day during summer, while at night it can run for five hours at a stretch. Unlike the conventional air-conditioners, this solar powered air-conditioner can save Rs 10,000 per annum on fuel.
The students also presented a research paper "Designing and development of solar air-conditioner system for automobiles" in the IOSR Journal of Mechanical and Civil Engineering (IOSR-JMCE).
Gurkirat Singh further informed that the air-conditioner was eco-friendly as it was pollution-free.
The power supply was enabled by solar panels, hence there was no extra load on engine to run the air conditioner, which directly saved fuel energy and increased the fuel efficiency of the vehicle.
"The biggest advantage of solar air-conditioner was that we could also run it while our automobile's engine was in non-running mode, without wasting of fuel energy," Gurkirat Singh said.