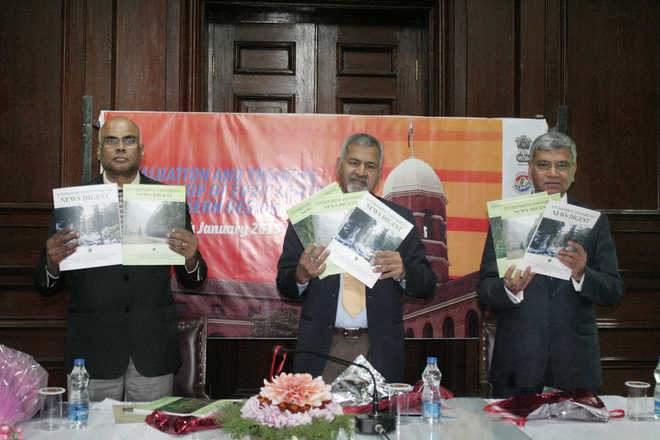 Tribune News Service
Dehradun, January 12
A Regional Evaluation Workshop of Environmental Information System (ENVIS), a body of Ministry of Environment, Forest and Climate Change which collects and disseminates environmental information on set parameters, began at the Forest Research Institute (FRI) here today.
The workshop was inaugurated at the historical convocation hall of the FRI. At the outset, M Kannan, Economic Adviser of the Ministry of Environment, Forests and Climate Change, highlighted the importance of the programme in the era of Information Technology. FRI Director Dr PP Bhojvaid cautioned the people against casual approach to the environment.
He emphasised that communication in the language of the common man is critical to empowerment of the masses in connection with climate change issues. He introduced different facets of FRI research and education to the participating delegates.
"The Ministry had instituted Environmental Information System (ENVIS) in 1982, under which, ENVIS centres from across the country are supported to collect, collate and disseminate information/data relating to various themes covering the environmental sector, primarily through dedicated website besides other information products," said Shailendra Kaushik, the coordinator of FRI ENVIS Centre and the organiser of the workshop.
"It has been envisaged in the guidelines for ENVIS scheme that performance of ENVIS centres shall be evaluated on an annual basis through national/regional workshops by independent expert committees. This workshop is part of that evaluation scheme," he added.
The ENVIS Centre hosted by the Forest Research Institute (FRI), Dehradun is organising the workshop on behalf of the Union Environment Ministry. The workshop is being organised to evaluate the functioning of the ENVIS centres not only to consider their continuance based on their performance, but also to provide them the necessary guidance and training in performing their activities to meet the objectives of the ENVIS scheme and also help in decision support system of the Ministry.
A number of independent experts hailing from varied backgrounds, with interests and vast experience and expertise in this field, will come forth with their assessment and offer inputs and insights during the workshop. As many as 22 ENVIS centres from the northern part of India hailing from states such as Jammu & Kashmir, Uttar Pradesh, Punjab, Delhi, Haryana, Himachal Pradesh as well as Uttarakhand are participating in this workshop.
Three concurrent sessions will be conducted for the workshop today where progress of the individual chapter will be discussed and evaluated. On January 13, a training workshop will be conducted for the centres.