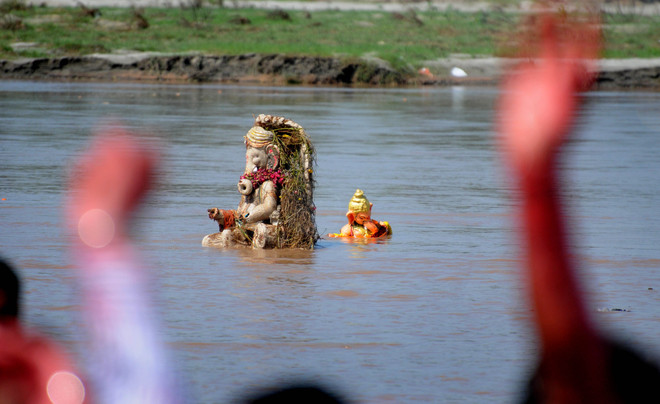 Manav Mander
Tribune News Service
Ludhiana, September 15
Ganesh Chaturthi is just round the corner and many residents in the city will be keeping Lord Ganesha idols at home for nine days and then finally immerse these in water on the tenth day.
Environmentalists have expressed concern over the rising graph of water pollution as high levels of zinc, calcium and strontium have been found in water which are probably due to the immersion of idols painted with multi-colours.
They said idol-derived heavy metals, especially nickel, lead and mercury, are likely to find their way into fish and birds inhabiting the lake, which finally reaches humans through food.
Gulshan Rai, chief engineer, Punjab Pollution Control Board, said: "Artisans should be educated on making their idols small, of non-baked, quick-dissolving clay, and with natural colours used in food products since idols are finally immersed in water and become a cause of water pollution."
A shopkeeper at Dandi Swami Road, who sells eco-friendly clay idols which are water soluble, said only a few people go in for these water soluble clay idols as a majority prefer the idols to be made of plaster of Paris which were more attractive, whereas clay idols were simple with no colours.
"I have been promoting eco-friendly celebration of festivals and selling clay idols from the past 20 years. I am struggling to survive in the market, where the plaster of Paris rules. But I will not bow down and sell idols which create environment pollution and am also against the principle of worshipping," he said.
Clay idols emit 'sattvik' frequencies
A pujari at a local temple said: "People buy idols made of plaster of Paris (PoP) these days because they are attractive and available in huge sizes, but the reality is that such idols attract very less Shree Ganesha principle. When idols made from PoP are immersed in water, they do not dissolve completely. As our gratitude, we should ensure that the idol is immersed and dissolved completely to gain maximum spiritual benefit. Idols made of clay as per spiritual science is most beneficial. Idols made of clay have absolute earth element which naturally attracts and retains the deity principle for a longer period of time. When these clay idols are immersed, they dissolve in water quickly and emit sattvik (spiritually pure) frequencies into the environment."
Top News
Railway Board has recommended for Central Bureau of Investig...
Amid 'pro-Khalistan sloganeering, the 39th anniversary of Op...
Focus on ways to expand bilateral defence and strategic ties
Observers feel election campaign built around the possibilit...