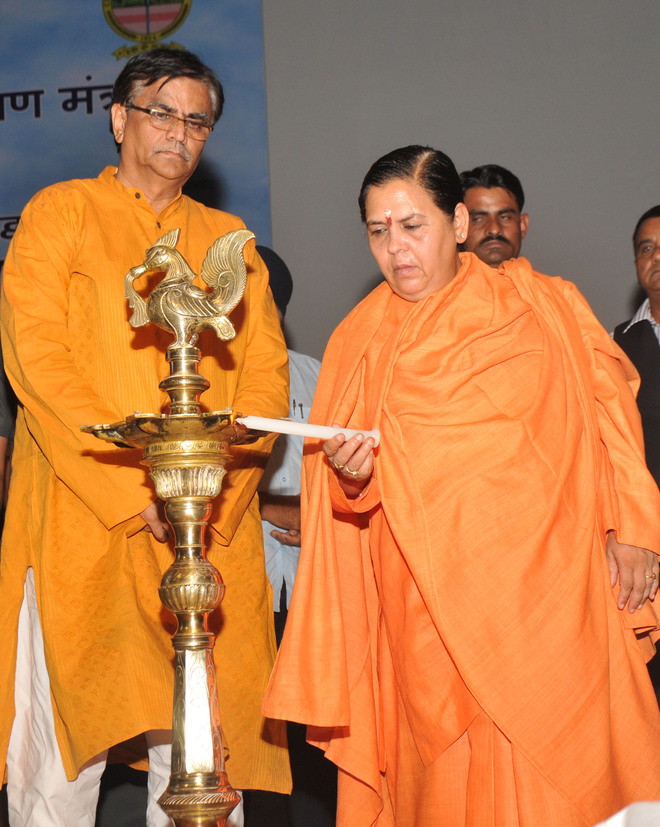 Nitish Sharma
Tribune News Service
Kurukshetra, August 21
Ganga is among the top 10 polluted rivers in the world and we are committed to turning it into the 10 cleanest rivers in the world within three to seven years.
This was stated by Uma Bharti, Minister of Water Resources, River Development and Ganga Rejuvenation. She was in the city to attend Bhujal Manthan- a national dialogue on clean and sustainable ground water, orgainsed by Central Ground Water Board here today.
"Even treated water should not be allowed to flow in Ganga. It should be used for other purposes like agriculture, gardening and infrastructure development. NDMC is an example as gardening there done using treated water. A plan needs to be prepared in this context. The classification of water must be done," she added.
She said that before constructing any dam it must be ensured that the dam would not kill any river. There must be ample water flowing in the river every time so that the rivers are kept alive," she observed.
Expressing her concern with the condition of Yamuna River, Bharti said that the real Yamuna ends at Hathinikund Barrage. If Haryana adopts the latest technology and let it flow in Yamuna, the real river would again flow till Prayag. We have talked to UP in this context and would ask Delhi not to ask for more water than its allotted share," she added.
"The situation of ground water level in Haryana is a matter of concern. Out of 116 blocks, 71 blocks are over exploited, 15 blocks critical, seven blocks semi-critical while only 23 blocks are safe," she pointed out.
Agriculture Minister OP Dhankar raised the water dispute between Haryana and Punjab and sought her intervention.
"Around 1 crore acre feet of ground water gets used every year of which only 60 lakh acre feet get recharged. After 10 years there would be a gap of nearly 1 crore acre feet. Haryana is to get 19 lakh acre feet of water from Punjab which should be given while they would make for the shortfall of 81 lakh feet by saving it," he added.
About the Punjab and Haryana High Court's stay on academic qualification in panchayat elections, he said the next hearing was on August 28. Elections would be held in September.
Top News
Was speaking to Indian journalists in Washington
This comes amid a diplomatic row between India and Canada ov...
Granthi Giani Jaswinder Singh from Pine Hill Gurdwara in New...
Heavy security deployed to deal with the situation
Family say all 3 accused knew Hrithik and that there were no...