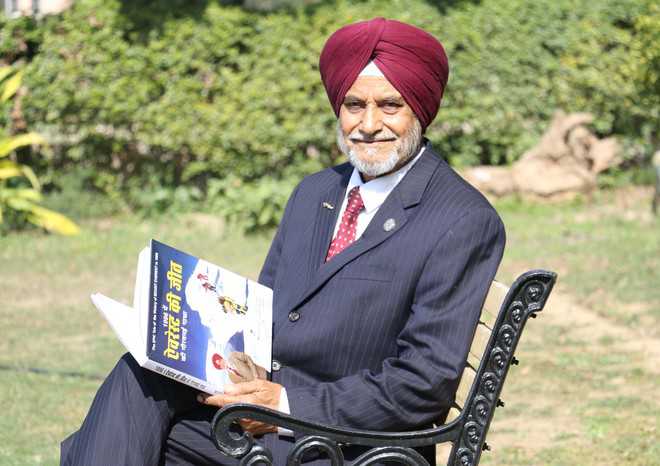 Tribune News Service
Ludhiana, February 11
The city based author Mohinder Singh, Commandant (Retd.), Hindi book '1996 Mein Everest Ki Jeet ki Gauravmai Gatha' was released by Arvind Kumar , IPS at ITBP, Transport Battalion, Chandigarh yesterday.
The 144-page book unfolds 78-day ITBP expedition to Everest through North-Col route in 1996 which terms as the toughest among 13 principal different routes to the summit.
The author hails from Model Gram, Ludhiana. He was a leader of the ITBP expedition that has the distinction of being successful leadership of the first ever climb of Mount Everest from the route of North-Col Tibet (China) side by Indian (ITBP) Expedition.
The May 1996 expedition by the ITBP to reach the top of Mount Everest was terribly hit by 1996 Mount Everest disaster, which in fact resulted in casualties of three members of expedition who were caught in the severe snow blizzard the Everest has ever seen.
The book displays human dedication towards goal, determination to face pain to reach the goal, Indian Armed Forces unique guts to face adverse conditions and more importantly the leadership qualities.
The book show exemplary grit and commitment of the ITBP team that despite witnessing severe weather conditions and loosing three members, reached the summit and set an example for other climbers from all around world.
Book is in fact a gripping story on climber's un­ending determination to win a mountain and of nature's chilling riposte, resolute character.
The book unfolds step by step the captivating drama of single-minded human efforts pitted against innumerable odds, the stark elements thrust at the dramatic personae, nail biting excitement, jolt of setbacks, throbbing anticipation, tantalising goal, pain and agony of three tragic deaths, anguish of anxiety, triumph and tragedy, sorrow, happiness, aching and joys.
Mohinder Singh (73) is a renowned climber and mountaineer award winner. Civil Engineer by profession, Singh retired as Commandant after having served in the ITBP for 35 years. He has done extensive trekking in the Indian Himalayas for continuous 25 years and also scaled Alps . He has been honoured with the coveted title "KHAN GRID" by government of Mongolia in 1995 under the Culture Exchange Programme between India & Mongolia.
He has been awarded more than fifteen commendations/citation, appreciations at different occasion of challenging/special assignments.
In March 2015, the author had released book's Punjabi version- Everest 1996.
Top News
CM Yogi Adityanath has announced ex-gratia of Rs 2 lakh each...
The election if required would be held on October 17, a firs...
Sujoy Lal Thaosen, Anish Dayal Singh appointed new director ...
Capable of supporting ultra-high-speed Internet, the fifth g...
As the govt rolls out the revolutionary 5G service, a look a...