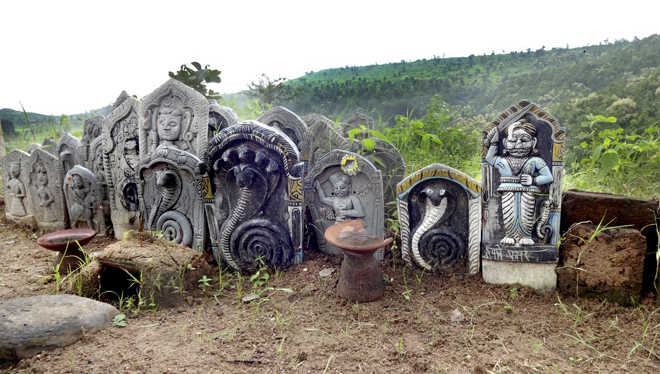 Manu Moudgil
Mata Karni Devi Temple near Bikaner is famous for thousands of rats that scurry around, milling with devotees. Several hours of television programming have been dedicated to the rodents, regarded as reincarnations of the goddess's devotees. What has not gained much attention, however, is the 2,100 hectare scrub land near the temple. Called Oran or Devbani in local parlance, it is one of the several sacred groves spread over one lakh hectare of Rajasthan, which are protected by the people.
Orans are dedicated to one or more local deities and this ancient tradition of incorporating sacred with economic and ecological benefits played a vital role in sustaining the pastoral culture of the state.
Similar examples are spread throughout India with estimates suggesting up to 1.5 lakh sacred groves. These groves can either be around a temple like that near Bikaner or the forest where the village deity resides. For instance, Dongria Kondh tribe of Niyamgiri hills in Odisha, famous for resisting the bauxite mining project of Vedanta Resources in 2013, consider the hills the kingdom of their deity Niyam Raja. Though villagers depend on the natural resources including trees, grasses and water streams, it is need based. Smaller sacred groves can also be found around burial or cremation grounds.
The CPR Environmental Education Centre (CPREEC), a centre of excellence of the Ministry of Environment, Forests and Climate Change (MoEFCC), has recorded thousands of sacred groves across the country. Himachal Pradesh tops the list with 5,000 sacred groves, which should not be a surprise as the region is known to have several deities. Kullu Valley alone has more than 500 deities, who converge along with their oracles at the week-long Kullu Dusshera celebrations and also 'preside' over important issues like the Himalayan Ski Village project that was rejected by them in the year 2006. Himachal is followed by Maharashtra (2,837), Kerala (2,000) and Karnataka (1,531) in number of sacred groves.
For many a green cause
With certain rules around extraction of resources, including ban on cutting of trees, these groves contribute significantly to wildlife protection, soil conservation, groundwater recharge, and as a good source of herbs, fruits and other economic resources to local people. No wonder, these forests qualify many parameters of conservation and sustainability and environmentalists promote this convergence of tradition with ecosystem as a counter to deforestation for developmental projects. Since faith connects people better than ecological discourse, these depictions have been relatively successful, Niyamgiri protest being the prime example.
Shifting shapes, fluid sanctity
The practices around sacred groves differ with location and may not always abide by the concept of unaltered, pristine state of forests as to the liking of conservationists. The contours tend to respond to the socio-cultural changes around them.
"The conditions around such sacred spaces are constantly being negotiated, depending on what ideas are dominant," says Dr Nitin Rai, a Fellow with Ashoka Trust for Research in Ecology and Environment (Atree), who was part of a team that mapped culturally significant sites of Soliga adivasis in the Biligiri Rangaswamy Temple Tiger Reserve in southern Karnataka.
At Upli Sigri village in Udaipur district of Rajasthan, the flexibility with faith and conservation is quite evident. A habitation of around 200 tribal families, Upli Sigri has a rich teak wood forest spread over 60 hectare, but with increase in population and improved access to markets in Udaipur and Ahmedabad, there was illegal cutting of trees for commercial use. Many a time it led to confrontations with neighbouring villages.
The illegal felling came to a halt in 2012 when the residents of Upli Sigri held a special prayer at nearby temple of Kesariya ji, a local deity revered by all tribes of the region. Kesar (saffron) from the temple was then scattered in the forest area symbolising divine protection. "It is believed that if somebody cuts a tree after such a ceremony, he suffers an immediate loss," says Arjun Lal, a villager. The protection, however, was only for five years after which the villagers decided to utilise the trees and fodder grass. This need-based sacredness doesn't fit into the modern, fixed concept of forest and wildlife protection.
Dr Rai is wary of the appropriation of the traditions of tribals for conservation. "We have to think carefully about conflating traditional practice with conservation goals as what local people value and desire may be very different from what is globally agreed on as important. They may have animistic traditions including totems related to tiger or wolf, but can we equate that to species protection?" he asks.
In her study, Of Paper Tigers and Invisible People on Sariska Tiger Sanctuary, researcher Radhika Johari also underscores this difference. She found that most of the sacred groves were in various stages of degradation and the deities also had a mobile representation through their mediums or oracles, mostly spiritual gurus, who moved from place to place.
Johari quotes examples of sacred sites which were abandoned at death of a guru and his spiritual lineage. Conversely, new ones came up with arrival of a guru in a village.
Many shades of conservation
At several places across India, the sacred groves are under stress. The small shrines are being converted into big temples with access roads. While ritualistic ceremonies were earlier restricted to once a year, some groves are now opening to visitors more frequently. In Kerala, the Mannarshala temple offers parking for at least 200 four-wheelers and thousands pray there every week. The once dense groves are reducing in size and becoming fragmented.
In a study published in 2014, researchers interviewed 59 members of the temple committees managing 53 sacred groves in Kodagu region of the Western Ghats. Only 14 per cent of those interviewed felt that reduction in area or conversion of dense forest into open, disturbed ones affected the cultural importance of a grove. "There appears to be a cultural change wherein societies place more value on popular gods and temple structures in sacred groves. On the other hand, local animistic beliefs and taboos that have historically been associated with the surrounding forests might have become less significant. Given that conservation is often only a byproduct and not a specified goal of sacred groves, changing cultural beliefs and practices could result in a loss of conservation potential in some cases," says Anand M Osuri, who was part of the research team. He also cites growing demand for land as another reason for decrease in forest extent and quality in Kodagu's sacred groves in recent decades.
Not everything is lost, however. The research team also found some very large groves, which were well protected. "Strong and dedicated community management certainly plays a key part in protecting sacred groves. Many locals do appreciate ecological benefits of these groves, such as the cooling effect on local climate and the habitat they provide for crop-pollinating bees. The inaccessibility of some of the larger groves, which may be located in hilly areas and abutting wildlife reserves may further enhance their protection," Osuri points out.
Several state governments have also come up with policies to protect sacred groves. With the United Nations Convention on Biological Diversity calling for preservation of knowledge and practices of indigenous and local communities relevant for biodiversity conservation, the sacred groves have gained global attention. But that is not enough to ensure good governance.
In 2015, Odisha identified 2,163 sacred groves in the state that need to be protected. But the list did not include mineral rich areas like Niyamgiri, underscoring the importance of economy over faith, at least in policy making.
Development and belief
The tribals who opposed the Vedanta mining project are often depicted as anti-development but that's not correct. Due to exposure to nearby towns, Dongria Kondhs now demand electricity, health services and schools, found a study done by Kalpavriksh, a non-profit organisation. However, they want all this without destruction to their sacred landscape. They prefer to have solar energy over grid electricity because high-tension wires are hazardous and would mean big vehicles cutting roads into the forests to ferry electricity poles. For education, they prefer the children to gain knowledge, which would help them deal with the outside world but feel that government schools should use Kui — the local dialect — instead of Odia as a medium of instruction. While many elders are against roads because that would mean greater flow of outsiders, others feel if at all roads are to be built, they should be narrow enough to be accessed only by foot. If Niyamgiri villages are able to access basic services on their terms, they can set an example for several villages dithering between the desire for development and need to preserve their surroundings.
Top News
Teams conducting raids to arrest the BJP leader
Jaishankar meets UN Secretary-General Antonio Guterres and P...
Canada is home to about 770,000 Sikhs - the highest populati...
Canada has alleged that Indian authorities were behind Nijja...