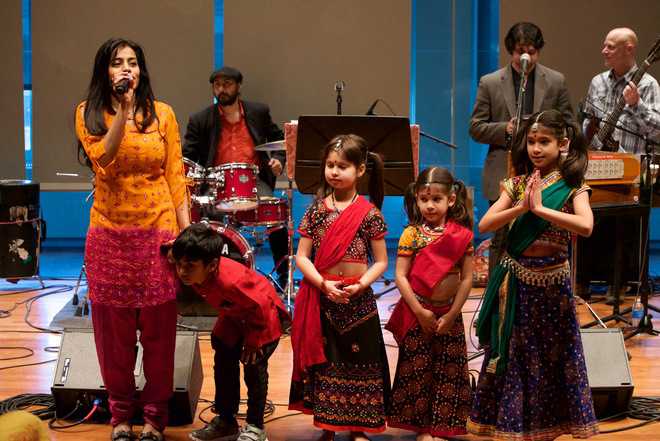 Neha Kirpal
Hindustani classical singer Falguni Shah, popularly known as Falu, is one of the Indian nominees at the Grammy Awards to be held tomorrow. Falu has been nominated in the Best Children's Music category for the 10 songs in her multilingual album Falu's Bazaar.
Talking about the idea behind the album, Falu says, "I wanted to take children on a fictitious journey on a bus to a market I named Hulululu Bazaar." On the journey, she teaches them how to sing their names in Hindi, how to cross the street, names of different shapes, how to say hello to different people in different languages, how to say the names of rainbow colours in Hindi and even count numbers from one through seven based on an Indian seven-beat rhythm cycle called 'rupak'.
"When we finally 'reach' the market, we pick up vegetables, fruits, flowers, pots and pans and learn the names of different Indian spices. After a long day in the bazaar, we come back home and go to sleep with a beautiful lullaby that my mom sings on the album in Gujarati," she adds. This song, "Nishaad's Lullaby" has been passed down five generations and Falguni hopes her son, Nishaad, will further pass it on to his future generations.
As a first generation Indian-American in the US, Falguni wanted to hold on tightly to her Indian roots and heritage and pass it on to her son and beyond. While she immigrated to New York City in 2000 with all her Indian values, she had to learn American culture and adopt it without losing her roots. That's exactly what she tries to do in this album — draw from both traditions and expose children to both in a fun and exciting way. "As an immigrant parent, I can only hope my son will seamlessly draw from both his American lifestyle and cultural upbringing," she says.
Not all her songs are for children though. Many others in the past have explored themes of womanhood, romance, longing, love and loss. "I believe in living and enjoying Navarasas in life. Music is very personal to me, and mostly reflects where I am in life. Whether I'm feeling romantic or sad, I make a tune with that emotion in mind. I welcome every feeling and fearlessly sing and write about how and what I am feeling and why," says Falu.
While her strongest musical influences are her gurus Kaumudi Munshi, Uday Mazumdar, Ustad Sultan Khan, Kishori Amonkar and her mother, she also draws inspiration from music by The Beatles, Aretha Franklin, Michael Jackson and Ravi Shankar. Falu has also had the opportunity to collaborate with the likes of American composer Philip Glass, Wyclef Jean, Ricky Martin, Blues Traveler, AR Rahman and Yo Yo Ma. She says all of them were wonderful and she learned some amazing lessons of life and music from each one of them and continues to cherish their teachings.
Talking about each of them individually, she says that Philip Glass taught her the power of minimalism — that less is more in music. "With Wyclef, I learned that if you have a solid 'groove', the musical world is at your fingertips with that basic beat structure as the foundation," she says. Ricky Martin, who loved the classical approach to her singing, inspired her with his open mindedness to try Indian music. And she loves the way Blues Traveler has been together for 25 years, and have the utmost love and respect for each other both musically and personally. "They're a great example of how music can keep people together," she adds.
Others in the fray
Prashant Mistry: London-based Indian music producer, mix and mastering engineer Prashant Mistry's album Symbol has been nominated for the Best Immerse Audio Album at the 61st Grammy Awards, which will be held in Los Angeles on February 10. Mistry, whose hometown is Rajkot, says the album is important as it's a call for empathy in times when powers seek to drive us apart.
Snatam Kaur Khalsa: US-based Kaur performs new age devotional music. Her album Beloved is nominated in the New Age Album category. She has cut 18 albums in as many years. These include Heart of the Universe, a duet album with Peter Kater, winner of last year's New Age Grammy. Her music is internationally known and has been featured on Oprah's Super Soul Sunday, Snatam Kaur is also a peace and environmental activist and author, stated a release.
Top Stories