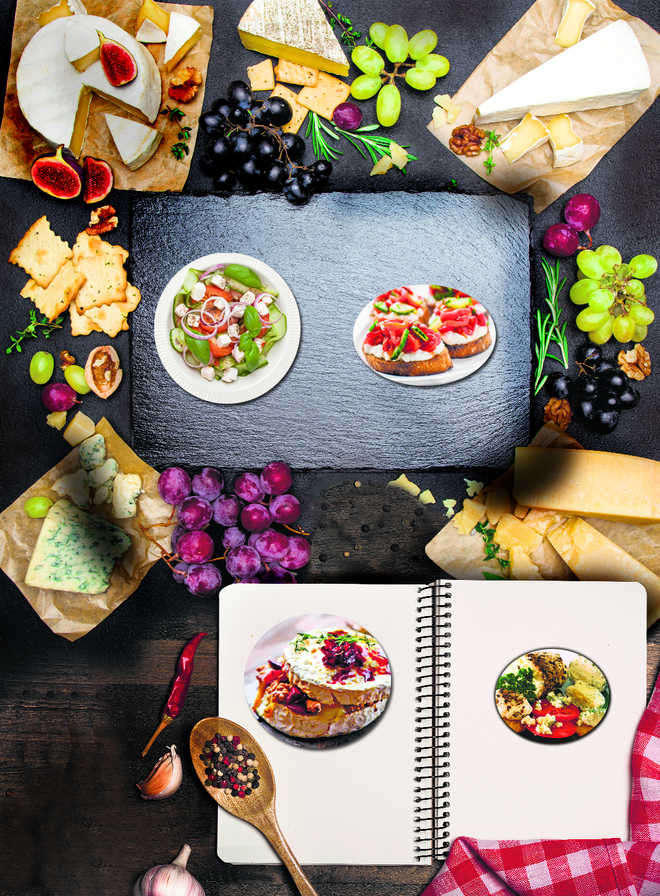 Bindu Gopal Rao
Till a few years, Amit Misra's favourite shopping activity on his trips abroad was buying cheese. With scores of choices and racks full of so many variants, it was impossible not to get lured by these, says Misra, who is a writer. "Since we would hardly get good cheese in India, I got my fill from the supermarkets abroad," he says. Times are changing now. People like Amit no longer have to depend on cheese from foreign shores. A spurt of artisanal cheese is making its way into the shelves of supermarkets and boutique stores in India.
Choices galore
The concept of artisan or artisanal cheese is simple. It is typically made in small quantities by small-scale manufacturers who prefer to keep control of the product themselves. A number of people who make artisan cheese work from home farms as well. While India was never known to be a cheese-loving country, considering the dairy love for butter and ghee, cheese is slowly but surely making inroads into the Indian food industry. From just being a part of sandwiches or accompaniments with cocktails, cheese has now become an integral part of pizzas, pastas, quesadillas and the like. The most common forms of cheese available in India are cheddar, processed cheese and mozzarella but this is changing now with artisanal cheese making its way into the market. Take for instance the case of Acres Wild in Coonoor. Started by filmmaker Mansoor Khan and his wife Tina, they make very small quantities of cheese about 4 to 5 kg per day at this farmstay because they only make it from 10 cows.
"We make six types of hard cheese: gouda, cheddar, colby, Monterey Jack, parmesan and gruyere. For cheeses like gouda and Monterey Jack, we add flavours also like pepper, mustered, chilly, zeera, etc. Besides this, we make softer lactic cheese flavoured with herbs and garlic, chilli and garlic, pepper and caraway seeds. We also make feta and halloumi. Occasionally, Tina makes camembert because this cheese is very delicate and difficult to make," says Mansoor.
Likewise Bala, who lives in Kodaikanal and runs Cinnabar, a farm and homestay, makes both soft and hard cheese. "Soft cheese can be used for savory dips as well as creamy cheesecake. Hard cheese based on Italian style is great as a table cheese. The soft, creamy bleu finds itself on the plate of the discerning connoisseur."
It was the visible gap in the market that Prateeksh Mehra, cofounder and fromager, The Spotted Cow Fromagerie, Mumbai, noticed. He thus ensured that what was a small exhibition of his cheese some day becomes big business. "We are artisanal cheese makers and source our milk locally. We started by making two popular French cheese brie and camembay and simultaneously started making Italian cheese rombay," explains Mehra.
The challenges
The demand for artisan cheese is increasing. The key challenge as far as making good cheese in India is concerned is the quality of milk and also the right temperature. When we talk about artisan cheese, we usually mean European cheese, which requires several months of ageing and a cool climate. Therefore, it is a challenge to make this kind of cheese in India, which is a warm country. "It can be kept in a fridge but it would be difficult to scale it up without making a cellar below the ground to maintain a temperature below 18°C. The other challenge is to get reliable good milk which has not been tampered with on a daily basis as fresher the milk, better the cheese," adds Khan.
Deepak Jain, CEO, D'Lecta Foods, which makes feta cheese, adds, "A major challenge encompasses communicating to the masses the quality and authenticity of feta. Most cheese available under the brand name of feta is actually 'white combi' — a "feta type" made from skimmed milk and vegetable fat against the original Greek method of producing good quality feta. Another challenge we face is low awareness of the usage of feta, which also impacts the awareness associated with storage, and that proves to be a deterrent for people wanting to try it."
Cheese is a fermented product and its taste will vary on the quality of milk and the weather. However, it is exactly this imperfection that makes it the perfect companion on your dining table.
Baked bombrie, cherries & walnut
Ingredients
1
petit wheel of bombrie cheese
½ cup
Fresh cherries (roughly chopped)
A few sprigs of fresh thyme for garnish
Method
In a bowl, mix the cherries and half the sugar and keep aside to macerate for 10 minutes.
Roughly chop the walnuts and keep aside.
In a saucepan, combine the remaining sugar and the red wine vinegar and begin to heat on a low flame. Once the sugar has melted, add the macerated cherries and all the liquid that has escaped the fruit.
Heat the mix till the cherries are soft but still hold their shape.
Remove from heat and allow to cool slightly before stirring in the walnuts. Break away a few thyme leaves and
add to the mix.
Slit the wheel of cheese (like you would a cake) to make two equal halves and spoon on the mixture from the centre out. Layer with the top half and bake in the oven at 350F for 10 minutes.
Serve with crusty baguette crisps.
(Recipe courtesy: The Spotted Cow Fromagerie)
Tomato crostini with whipped feta
Ingredients
½ cup
Cream cheese (room temp)
1 cup
Feta cheese (crumbled)
250g
Cherry tomatoes (diced)
10
Baguette (diagonal slices, toasted)
Salt and black pepper to taste
A handful of basil leaves, plus extra for serving
Method
For the whipped feta, place the feta and cream cheese in a bowl and mix using a hand blender or whisk. Add 1/3 cup of olive oil, lemon juice, salt, pepper and mix until smooth.
Mix the shallots, garlic, and vinegar in a medium bowl. Set aside for five minutes. Whisk in the remaining olive oil, salt, and pepper. Add the tomatoes. Stir gently and set aside for 10 minutes. Stir in the basil and taste for seasonings.
To assemble the crostini, spread each slice of bread with a generous amount of whipped feta. Top up with the tomatoes. Put the crostini on plates and sprinkle toasted nuts. Sprinkle with extra basil and serve.
(Recipe courtesy: D'Lecta Foods)
Top News
Bills were passed after more than six hours of debate spanni...
Among the 10 who put in their papers are nine Lok Sabha MPs,...
At present, HR management of Army is governed by various pol...
The three Bills are Sikh Gurdwaras (Amendment) Bill, 2023, P...
The withdrawal of statement by MP Senthil came when the Hous...