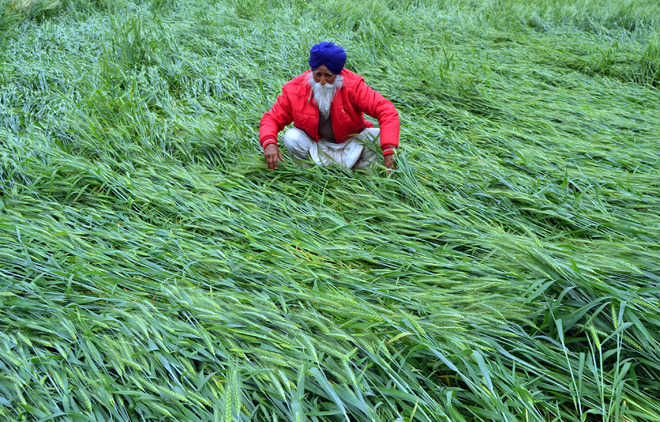 Archit Watts
Tribune News Service
Muktsar, March 9
The recent rain and strong winds in the district are giving anxious moments to farmers as the standing wheat crop has flattened at several places.
Further, farmers in the waterlogging-affected areas said the power connections to the sub-surface drainage system had been snapped due to non-payment of bills by the Irrigation Department. As a result, the rain might affect the yield. During a visit to some villages on Bathinda and Malout road today, it was seen that the wheat crop had partially flattened at most places. The farmers said it would lessen the yield.
"The rain and winds will reduce the yield by 2-3 quintal per acre. It has mainly caused damage to the crop that has matured," said Jagdev Singh Kanianwali, a farmers' leader.
Beant Singh, Chief Agriculture Officer, Muktsar, said rain did not affect the crop much. "The rain and winds lashed only some parts of the district. So, the loss is negligible," he said.
He said in the areas where the wheat fields required water, the rain had proved beneficial. "If there is no fresh rainfall in the next two days and wind speed too remains normal, then there will be no affect on the yield," added Beant Singh.
Moga: Unseasonal rain and hailstorm caused damage to the wheat crop in some villages of the district on Thursday. Reports of rain and hail accompanied by winds was received from all parts of the district, but a few villages like Chuhar Chak, Balkhandi and Daulatpura were badly hit by nature's fury flattening the wheat crop of many farmers. Already burdened with debt from previous crop losses, farmers face more difficulties after such natural calamities and often resort to suicides.
Faridkot: Heavy rain accompanied by strong winds lashed the Faridkot area on Thursday. As a result, the wheat crop in various parts of the district has been flattened, making farmers fear huge financial loss.
As farmers have to manually harvest the flattened crop, the production cost goes up. Moreover, there is loss of yield in the flattened crop and discolouring of grain, rued farmers.
The Meteorological Department has forecast high possibility of rain and thundershowers accompanied by high-velocity winds in the next two days in this area, raising fears of damage to wheat and mustard crops.
Top News
PM Modi joins launch of 13-nation pact for economic resilience in Indo-Pacific
India committed to working for an inclusive & flexible IPEF,...