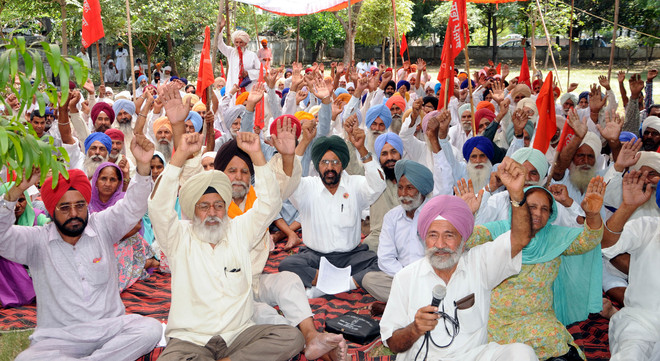 Tribune News Service
Amritsar, May 21
Scores of activists of Jamhuri Kisan Sabha Punjab today staged a protest outside the Irrigation Department office here.
They were demanding a complete revamp of the "virtually collapsed" canal water supply system in Amritsar, Gurdaspur, Tarn Taran and Pathankot districts of the Majha region.
Addressing the protesters, Jamhuri Kisan Sabha Punjab president Dr Satnam Singh Ajnala and secretary Raghbir Singh Pakiwa said canal water supply holds great significance in a state like Punjab where the ground water table is depleting at a rapid pace.
According to them, there are distributaries which have been dry for the past 20 years while a number of water channels exist merely on paper. In this scenario, even if water is released in the distributaries, it cannot reach the farmers as the water channels don't exist on the ground.
They demanded expediting the work of the Shahpur Kandi Barrage Project which will facilitate canal water supply for 3.48 lakh hectares.
They said the move would also lead to more power production in Thein Dam and would help the state cater to the increasing demand of electricity.
Border Area Sangarsh Committee general secretary Rattan Singh Randhawa said the government should initiate measures to recharge ground water, besides ensuring that canals, distributaries and water channels are properly maintained.
He said if the canal water supply was strengthened, the farming community would no longer have to rely much on power supply to irrigate their fields.
Top News
Railway Board has recommended for Central Bureau of Investig...
Amid 'pro-Khalistan sloganeering, the 39th anniversary of Op...
Focus on ways to expand bilateral defence and strategic ties
The incident took place when Binny had to load his SUV for t...