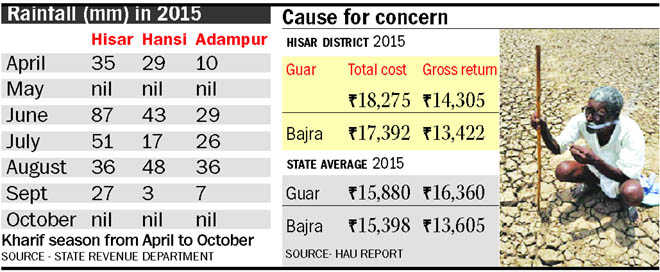 Deepender Deswal
Tribune News Service
Hisar, April 19
Despite failure of crops during the kharif season, the state government has refused to admit that drought-like situation prevailed in the state and denied compensation to the affected farmers.
A report of the Chaudhary Charan Singh Haryana Agriculture University (HAU) has revealed that farmers had to face losses in bajra and guar crops during the kharif season. The rainfall during the kharif season was, too, scanty.
The HAU report suggested that the farmers suffered an average loss of Rs1,793 per acre over the total cost in bajra crop in the state. Hisar farmers suffered the highest loss of Rs3,970 per acre, while Bhiwani, Mahendergarh and Jhajjar farmers suffered an average loss of Rs2,382, Rs1,166 and Rs1,948 per acre, respectively.
Similarly in guar crop, farmers in Hisar suffered a loss of Rs3,970 per acre and faced a loss of Rs2,744 per acre in Fatehabad district, the report revealed. Calculating the economics of these crops, the report totalled the input costs and rental value, management charges and risk factor.
Harpal Singh, state secretary of the All-India Kisan Sabha (AIKA), said that the HAU report had corroborated what they had been saying for many days. "Even the state government's girdawari report, too, has shown heavy losses in bajra, guar and moong besides the cotton."
"The government kept bajra, guar and moong out of the compensation scheme with an argument that whitefly does not harm these crops," he said, adding that there were reports of whitefly damaging these crops.
A government official, however, said that HAU scientists had recommended to the state government that whitefly did not affect crops other than cotton so they could not include these crops in the compensation scheme for whitefly affected crops. "Besides, there is no declaration of drought in the region and these crops cannot be compensated for drought too," he said on condition of anonymity.
The farmer leader said that bajra, guar and moong crops were grown on 4 lakh acres in Bhiwani, around 3 lakh acres in Hisar and around 45,000 acres in Fatehabad adding that the entire crops had failed during the kharif season.