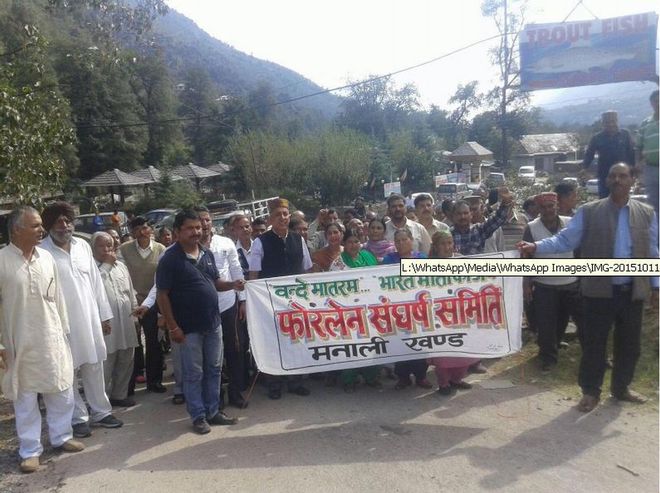 Tribune News Service
Mandi, October 11
Members of the Four-Lane Sangharsh Samiti will meet Chief Minister Virbhadra Singh during Dasehra celebrations over lack of transparency in land acquisition for the four-laning of the Nerchowk-Manali stretch of the National Highway-21.
In a statement issued here today, samiti president Brig Khushal Thakur (retd) said it was decided in a meeting held at Raisen in Kullu district to raise the issues of four-time compensation, market value of the land for awarding relief, transparency, rehabilitation and resettlement with Chief Minister Virbhadra Singh.
He said the government should accept the new Right to Fair Compensation and Transparency in Land Acquisition, Rehabilitation and Resettlement Act, 2013, in letter and in spirit.
He hoped that the Chief Minister would accept their demands, adding that the law was in the favour of farmers.
The state government had recently announced four-time compensation to affected people. But the issue was neither taken up in the Cabinet nor any notification was issued, he said.
He said Delhi, Haryana, Rajasthan and Maharashtra had announced compensation more than four times. Moreover, the entire cost of compensation would be borne by the Central government and the state government had to disburse it.
He said the affected people were still not aware of the amount of the compensation they would get, adding that the compensation should be determined on the basis of prevalent market value of the land and not the circle rates.
"Circle rates are kept low deliberately to minimise stamp duty, and therefore, the difference between the circle rate and prevalent market rate is usually vast," he said.
He said farmers should also be consulted before fixing the market value of their land.
Samiti general secretary Brijesh Mahant, treasurer Mangat Ram Sharma, Kullu block president Vinod Mahant and Manali block president Mohinder Thakur were also present in the meeting.
Top News
No immediate report of any loss of life or property; people ...
Earlier, Amritpal was caught in CCTV footage at a toll plaza...
Police have arrested 154 people so far but Amritpal is still...
Stringent National Security Act has been invoked against Amr...
In his first reaction to the police action, the CM releases ...