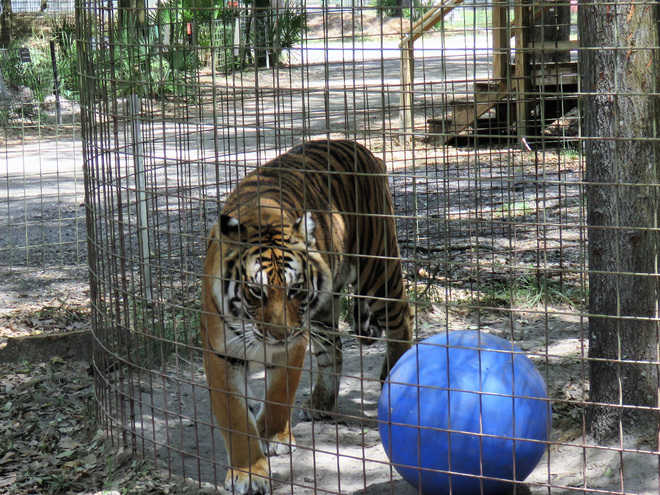 Rashmi Gopal Rao
Lynx, servals, savannah cats, bobcats, lions, tigers and more. These are just some of the animals you can expect to see at the Big Cat Rescue Sanctuary in Tampa, Florida. With more than 100 felines, the centre is the world's largest accredited sanctuary dedicated to big cats. What makes Big Cat Rescue unique is that it is a home dedicated to cats that have been abandoned and abused. Rated 4 Stars (which is the highest for an animal charity) by Charity Navigator, the centre, which is a non-profit education sanctuary, was established in 1992.
The Big Cat Rescue was initially started with the objective of saving cats from trade that included breeding them for the manufacture of fur coats and also training them for performing acts. Today, the centre is involved in not only providing the best possible care for these abandoned animals but also actively takes measures to prevent the extinction of several species like servals, ocelots, cougars and bobcats. The goal of Big Cat Rescue aims to end private possession of all exotic cats and abolishing trade through legislation which they do by education and spreading awareness. Spread over 50 acres, the sanctuary is nestled within the Citrus park area of North Tampa. The centre is not a zoo, and hence animal care is of prime importance here. Any visit to the centre is by prior reservation, and one can choose from a variety of tours, including a day tour, kids tour and the private tour. Guests are not allowed to wander unescorted and all tours are conducted with the help of professional inhouse guides, who share a information about each of the cats.
Housed within enclosures, the centre has species like caracals, Canadian lynx, jaguars, cougars and Siberian lynx. So far, the centre has rescued more than 200 cats — either from abusive owners, accidents or simply from people who did not want them anymore. All cats are given a habitat that is closest to their natural one. Information boards pertaining to the species that is displayed in front of each enclosure is particularly useful and engaging.
Though photography is allowed here, visitors are not allowed to venture close to the animals or touch them. Feeding is strictly prohibited and the diets of the animals is closely monitored and approved by the vets who work closely with the Big Cat Rescue team.